A Guyanese residing in Nevis, St Kitts' twin island, died on Friday night last after he was struck down in an apparent hit and run.
According to the St Kitts and Nevis publication SKN Vibes, Hardat Balgobin, also known as 'Chandrapaul' , 51, formerly of De Hoop, Mahaica, Guyana was hit down and died on the spot.
SKN Vibes said Balgobin, who recently celebrated his 51st birthday, was on his way home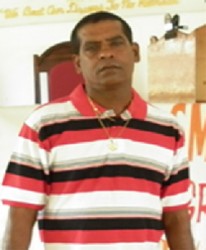 sometime after 9 pm on Friday when he met his demise.
The publication said Balgobin was employed at the Agriculture Department and was the first fatal accident victim on Nevis for the year and the fifth for the twin-island federation.
According to SKN Vibes, the man's widow, Pamela Balgobin, said she was on the phone speaking with her daughter when someone told her that her husband had died in an accident less than 75 metres from their home.
Family members also told the publication that a post-mortem examination was performed yesterday and it revealed that the injuries causing his death were consistent with him having been involved in a "motor vehicle accident". Reports were that he sustained severe head injuries.
SKN Vibes said Balgobin, of Upper Government Road, Nevis had been residing on the island for over 13 years.
Meanwhile, the media house said it was reliably informed that a person of interest was in police custody assisting officers with their investigation into the matter.
Around the Web