In spite of challenges with our extensive borders, government has been working hard to establish measures and to partner with Caricom member states to advance the country's fight against terrorism, according to Home Affairs Minister Clement Rohee.
Speaking at the opening session of the official two-day visit of seven experts from the United Nations Counter-Terrorism Committee Executive Directorate (CTED), Rohee yesterday said, "the components are there. The elements are there but if you are looking for a single document to say here is Guyana's counter terrorism strategy you may not find that but you will obviously find the components and the elements which when put together could constitute that strategy."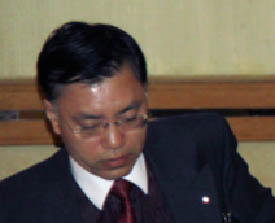 Deputy Director Weixiong Chen is leading the delegation, which also includes Elisabeth Joyce, Section Chief, CTED, Coordinator of delegation; Sue Takasu, CTED Senior Legal Officer; Enrique Ochoa, Committee Expert from '1540 Committee'; Henrik Juhl Madsen, Associate Professional Officer, Maritime Security and Facilitation, Maritime Safety Division; Yuen Chi-Kin Luke, Interpol Officer; and David Alamos Martinez, the Terrorism Prevention expert, UN Office on Drugs and Crime.
During their two-day visit, they will be meeting at the Guyana Police Force Officers' Training Center with a number of law enforcement ranks. They are conducting an assessment of the country's efforts in implementation of the UN anti-terrorism resolution. Among those present yesterday were ranks of the Guyana Police Force, the Guyana Defence Force and Guyana Fire Service, Director of Public Prosecutions (DPP) Shalimar Ali-Hack, Crime Chief Seelall Persaud, Fire Chief Marlon Gentle and Ambassador Elisabeth Harper.
Rohee, in giving the feature address, said that among the menu of measures the government had taken to combat terrorism both locally and internationally is the establishment of a cybercrime unit, while noting that it is known the terrorists utilise technology to plot and perpetrate their criminal activities.
According to Rohee, the country's extensive borders pose a major challenge. He said that building capacity to monitor and be vigilant would be welcomed, given the peculiar characteristics and the country's location.
He said government has a zero tolerance policy with respect to terrorism both locally and internationally, while adding that terrorism in all its forms has claimed many lives, disrupted economic and social progress in many countries and has caused the international as well as the donor community to direct "valuable and hard to come by resources to fight terrorism."
Rohee told the gathering that Guyana unreservedly supported the United Nations Council Resolutions 1373, 1540 and 1624."We recognise that these resolutions impose on each of the state parties obligations to establish mechanisms to fight terrorism and to promote international cooperation in that respect," he said, while noting that Guyana like many of the signatories are bound to revising domestic anti-terrorism legislation and to ensure that terrorists appreciate the law's capacity to render justice.
Rohee stated that government recognises its obligation to re-evaluate the effectiveness of law enforcement and to ensure greater coordination among law enforcement agencies.  He said that government has also recognised the need for strengthening border controls and in this regard has been working hard to do so.
In the area of legislative overhaul, he said, that there will be a national discourse with respect of the Anti-Money Laundering and Countering the Financing of Terrorism Act of 2009.
According to him, government is moving at the administrative level to establish bodies that will advance the country's fight in this area.
Domestic terrorism, he observed, is not uncommon in developing countries and in this regard he said government initiatives include establishing appropriate legal instruments to combat the trafficking of small arms, among other issues. He made reference to the Firearms Bill which was tabled in Parliament and which was voted against by the opposition as part of their ongoing campaign against him. He questioned which was more important: the sitting Home Affairs Minister or the Bill. A large percentage of the population, according to him, indicated the latter.
Rohee also said that there are many pieces of legislation which sprang from decisions adopted by Caricom Heads of Government, including the Firearms Act and the Interception of Communication Act. He stressed that Guyana works very closely with its Caricom partners on cross border and trans border issues. He said that intelligence mechanisms have been set up to ensure that intelligence sharing among law enforcement officers in the respect Caricom countries is done in a serious manner. Major General (ret'd) Michael Atherly, Coordinator of the Task Force on Narcotics and Illicit Weapons in the Ministry of Home Affairs, chaired the opening ceremony. He said that the government by way of the United Nations Security Council Resolution 1373 of 2001, which calls for addressing financing and improving international cooperation, is committed to fulfilling the extensive counter terrorism legal obligations imposed by all member states by the resolution.
This resolution, he said, also established the committee of the council to monitor the resolution's implementation and calls on all states to report on actions they had taken to that end.
According to Atherly, it is in keeping with this aspect of the resolution that the CTED is visiting Guyana so as to monitor implementation and assist Guyana in its efforts to fulfil the mandate of the resolution.
He said that it was anticipated that the two-day visit could also generally help to reduce those conditions conducive to the spread of acts, methods and practices of terrorism aimed at the destruction of human rights, fundamental freedoms and democracy that could threaten the territorial integrity and security of Guyana and the region. "This country visit is therefore another demonstration of Guyana's firm commitment and active contribution to the work of the counter terrorism committee of the United Nations in their efforts to reduce vulnerabilities to terrorism through regional and global support," he said.
This support, he added, is clearly enhanced by the respect for the rule of law, fundamental rights and freedoms as well as the explosion of a criminal justice approach.
Chen described the visit as a very important one, while noting that the team is a monitor on compliance issues.
He added that CTED is also a facilitator in order to help build capacity in the area of Counter Terrorism. Chen said they have already visited up to 80 countries, including some in the Caribbean like Jamaica.
"Guyana is not a forgotten corner. If the terrorists… are flushed out of the other areas, there may be areas here that pose vulnerability so we should leave no stone unturned here in terms of counter terrorism and the fight against transnational organised crimes," he stressed.
He noted that Guyana is one of few countries that have signed on to 14 international conventions against terrorism. He said that this is an indication of determination on the part of government to deal with terrorism and other security issues.
Chen added that Guyana is also a party to the major conventions on human rights and this is also reflective in the constitution.
He urged the ranks to use the opportunities to identify their challenges so that solutions can be found as well as to identify their needs for capacity building. He noted that when compared with other parts of the world, the "situation here appears to be calm."
He said that they are also concerned about the illegal trafficking of arms, while noting that persons at the hotel where they are staying had advised them not to go out alone, dress neatly or wear jewellery.
Around the Web