Habitat for Humanity Guyana (HfHG) yesterday recognised World Habitat Day during a short ceremony which saw the Guyana Telephone and Telegraph Company making a donation of $1 million and the Ministry of Human Services pledging $50,000 towards the organisation's initiatives,
HfHG National Director Rawle Small yesterday said that 15 years ago the United Nations deemed the first Monday in every October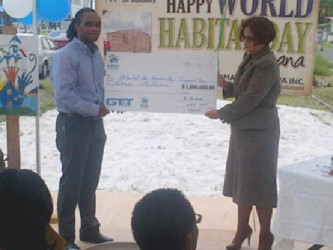 as World Habitat Day in an effort to highlight the state of towns and cities, and increase awareness on the importance of housing in these rural communities.
The theme this year is "Urban Mobalisation," and Small said HfHG would be using the occasion to reiterate the rationale used by the UN to create the day all those years ago.
"We want to use this occasion to encourage all stakeholders to reflect on the importance of housing and the role that it plays in development," Small told Stabroek News.
He explained that several benefits, including access to water and electricity, and even economic progression are to a large extent dependent being able to secure housing.
This focus is ever more important considering that population sizes in urban communities are monumentally larger than they were a few decades ago. He said that in the 1950s, 50% of the Latin American and Caribbean populations lived in urban areas, but today around 70% live in urban communities.
Global urbanisation statistics are even more eye opening. According to the Anthropocene Journal, by 2008 50% of the global population was living in urban communities, as opposed to 30% 50 years ago.
The Journal also stated that by 2030, the world's urban population is expected to reach five billion. Seventy years later (2100), 3-5 million additional people are expected to be living in cities.
Small said that as city populations rise, so do the demand for access to water, schooling, and electricity. "The world is now struggling with the task of providing these services for all these people," he stated, and added that if the problem is to be properly addressed all stakeholders, policy makers and otherwise, will have to work together to establish a way forward.
As it relates to conditions in Guyana, he said stakeholders are doing their best, but there is still much work to be done.
Particularly important to HfHG's focus, is disaster risk reduction. The flood which occurred in 2005 was an indication that "we need to be more prepared," he said.
He is also of the opinion that the low lying nature of Guyana's coastal plain presents risks to housing security.
Around the Web