Newly-sworn in Commis-sioner of Police Leroy Brumell yesterday promised to work with all stakeholders to take back the streets and communities from criminals, while also identifying the modernisation of the force as a top priority.
An emotional Brumell, who has been acting in the post for almost two years, was sworn in by President Donald Ramotar at the Office of the President yesterday,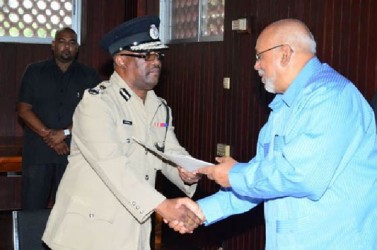 where he was supported by his family and the top brass of the police force.
"Today I recommit to the citizens living within our borders that I, Leroy Brumell, will do all within my power… with key stakeholders, to serve and protect and to take back our streets and communities from the criminals," he said in tears.
He noted that modernisation of the force, including its operations, the development of ranks, its partnerships with persons and infrastructure, would also be top priority.
While observing that "no man is an island," Brumell appealed for support. Even as he noted the absence of opposition leader David Granger, who last week Thursday offered no objection to his appointment, he expressed gratitude to Ramotar and the others who saw it fit to validate his assumption of the office. He said their decision is not one that they would regret.
"And to my many critics of the force, we can never please everyone, but I do promise to use the criticisms in a constructive way to assist the force in becoming a better institution," he added.
Brumell described his years in the force as a "long, hard road" but noted that he had no regrets. As he proceeded to acknowledge that it is no secret that the force has its challenges, the new commissioner began to cry and his tears continued throughout the ceremony and he could be seen wiping them away as he took photographs with his family and others. The emotion of the occasion was also transmitted to some of his senior officers, who could also be seen wiping away tears.
Brumell had been acting in the post for almost two years since his predecessor, the late Henry Greene, proceeded on leave following allegations of rape.
Ramotar, in his remarks at the swearing-in, touted his administration's ongoing security sector reform, while lamenting that the security policies and programmes have been reviled and rejected by the parliamentary opposition.
"This period has seen the unfolding of the most comprehensive of security sector reform that Guyana, and for that matter any other Caricom civilian law enforcement agency, has undertaken in recent times," the president said.
He added that in his most recent engagement with the top brass of the police force, he remained impressed with their commitment and resolve to fight crime and violence in Guyana.
According to the president, they are not unmindful of the challenges and feel assured that the implementation of the security sector reform will successfully impact on crime fighting.
Ramotar also noted that Brumell has been tested. He said that as time elapsed following Brumell's appointment, his satisfaction with his performance grew. He said his confirmation was frustrated by the delays in meaningful consultation with Granger, which finally took place last week, when he gave no objection.
Meanwhile, asked about the concerns about soon to be set up Special Weapons and Tactics (SWAT) team, including the fear it may devolve into a 'Black Clothes' unit—accused of a series of unlawful extra-judicial killings during the height of its operations—Brumell said the selected members of the team have been thoroughly interviewed.
"I can assure you that my Deputy Commissioner Law Enforcement [Seelall Persaud] is one of the persons who is taking them through the paces to ensure that we get the right type of persons. I can assure that as long as it comes into being it would not be a 'Black Clothes,'" Brumell said.
Asked about the process used to select the would-be members, he said they were selected based on service, abilities as these relate to their dealings with persons and "persons who we think are very sensitive to the job."
He could not give a timeframe for the team to become operational.
The Ministry of Home Affairs last week announced that approval had been given by cabinet for a SWAT unit to strengthen the police force's law enforcement capabilities. "With a SWAT Unit, the Guyana Police Force would be better placed to make specialised interventions, thereby, ensuring law and order is maintained, and prospective threats are neutralized," it said.
The announcement came in wake of an alarming upsurge in crime, including several execution-style murders, in recent weeks.
Around the Web