A 22-year-old mason was late yesterday afternoon gunned down a short distance from his home and his relatives are saying that his death could have been avoided had the ranks at the Sparendaam Police Station taken their complaints seriously.
Michael Julian Hamilton of Lot 128 Sparendaam Housing Scheme, East Coast Demerara (ECD) was shot around 5 pm,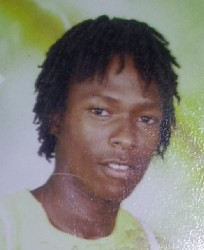 two corners away from his home by a known gang member from Better Hope, ECD who frequents the community. The shooter has since gone into hiding.
"This is one long, draw- out story… is more than one time we make reports to the Sparendaam station. Up to Saturday, he mother went and make a report but the police never come here. This is the fourth shooting that happen here. Three to four persons done come here and shoot up the house before but the police ain't coming. Now, look what happen," Raphael Hamilton, an uncle of the murdered man said.
Hamilton sustained gunshot wounds to his chest and foot and was rushed to the Georgetown Public Hospital, where he was pronounced dead on arrival.
According to Raphael Hamilton, a cousin of the now deceased man was involved in a relationship with the girlfriend of another member of the gang and this could have been the reason behind the shooting.
"The first shooting they had was with me son and then the next shooting they had was this same banna who shoot me nephew, the same one that dead. Duh time he de get shoot to he butt," the man related.
The man stated that the gang was probably tracing his nephew as he was making his way to his aunt's home a few corners away. "Like they de tracing he. Now this afternoon they come back. This afternoon he de walking going by he aunty 'cause he does go and sleep over there and like dem banna come follow he, is four of them in this gang," he stated.
A sister of the deceased man related that that her mother was once threatened by one of the gang members, who told her that she would pick up her son in a body bag. The dead man's mother, Karen Hamilton, declined to speak to the media.
Hamilton is survived by his parents and three siblings.
Recently, there has been a spike in murders in the country and a SWAT team is currently being established to deal with the upsurge in crime.
Around the Web