Guyana's dairy and small ruminant industries are to receive a major boost through technical and others assistance from Canadian farmers.
A release from the Ministry of Agriculture said that this is being realised through a bilateral collaboration facilitated by the Inter-American Institute for Cooperation on Agriculture (IICA).
At a meeting in the boardroom of the Ministry of Agriculture, Canadian High Commissioner to Guyana Dr Nicole Giles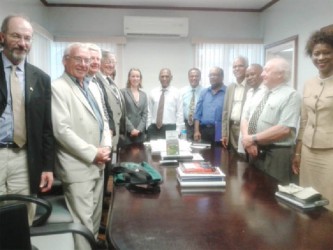 and a delegation of Canadian farmers met with Agriculture Minister Dr Leslie Ramsammy.
Among the areas discussed were an improved genetic breeding programme and the establishment of a state-of-the-art dairy processing plant which is expected to become operational within one year's time.
Speaking at the end of the meeting, Canadian High Commissioner, to Guyana, Dr Nicole Giles described the meeting as a productive one.
"The commitment that we have certainly made is to have a plan; to do so within one year but we all agree that we don't want perfection to be the enemy of progress and that we will work together on a step by step basis to come up with a comprehensive approach from data management to production, to quality to market," she said.
"The Canadian High Commission is also pleased and proud of the showing from the Canadian agricultural sector here at the Caribbean Week of Agricul-ture and we are also pleased with the outcome of this meeting and I would once again like to thank all the participants from the Canadian agricultural industry for coming down to Guyana and for participating in these discussions," the High Commis-sioner said.
The release said that Agriculture Minister Dr Leslie Ramsammy welcomed the move, which he said will significantly boost the sector. He added that the establishment of a dairy industry in Guyana is crucial and something which will be well received by society at large, especially farmers.
"We [Guyana Government], are very happy to be collaborating with Canadian farmers… Cana-dian farmers have ensured that Canadians are not only well fed but Canada is one of the world's leading exporters. Guyana can benefit enormously from Canada," he said.
Lloyd Wicks, an Ontario farmer who headed the delegation, pointed out that the collaboration will pave the way for Canada to introduce to Guyanese farmers, some of the mechanisms presently being used.
According to Wicks, Trent University, Canada is also part of this collaboration with respect to research and will be working hand-in-hand to ensure that high quality genetics is developed.
Technical officers from the Agriculture Ministry will also be working with the Canadian Farmers Associa-tion to strengthen Guyana's improved breeding programme, particularly in its artificial insemination and embryo transfer programme. When completed this will see Guyana benefiting from the transfer of frozen embryos and semen for its artificial insemination programme. This will significantly lower the cost of acquiring genetic stock, the release added.
Around the Web