Police investigations are ongoing into Monday's killing of Sparendaam resident Michael Hamilton who was gunned down two corners away from his home by a well-known gang member, even as family members continue to receive death threats from members of the gang.
The 22-year-old mason of Lot 128 Sparendaam Housing Scheme was shot twice by a gang member who he had an ongoing feud with for the last couple of months.
A sister of the deceased had said that she heard an explosion and upon checking she saw her brother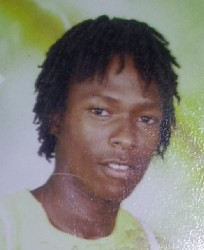 chasing the suspect who subsequently pulled a gun on him. It was shortly after this that he was shot to his leg and chest.
Contacted, Crime Chief Seelall Persaud said that the two men were known to each other. Persaud also said that he was unaware of any previous complaints being made to the police at the Sparendaam station about the suspect, while adding that Hamilton was also shot about a month ago.
Meanwhile, family members say that a 13 year old cousin of the deceased who witnessed the shooting is now receiving death threats from several of the gang members. "They threatening to kill he because he see everything that happen," a relative said.
Ramona Marshall, a sister of the deceased said that several weeks after her brother was shot the first time, four ranks from the Sparendaam police station had come with an offer and she believed that had he taken it, he would still be alive.
"In the Backdam they had this dance and these four ranks came and tell him that they want help finding the men them that he had the story with, but he tell them plain that he ain't get time with the cause the is not he job, is dem job.
Probably if he de go with them he would have still been alive, because he would have been able to point them out to the police", she said.
The woman said that contrary to reports carried in other sections of the media, her brother was unharmed at the time of the attack and was not involved in any gang as was reported. "He was unharmed, he had no cutlass and he wasn't in any gang. Saturday night this guy pass my brother and say he got a gun," the woman said.
Family members have accused the ranks of not taking their complaints seriously.
An uncle of the dead man had said that the family had made umpteen reports, with the last one being made the Saturday before the murder, but no action was taken by the ranks.
Around the Web