A neighbourhood policewoman from New Amsterdam has been missing since Saturday evening.
Police and relatives have been frantically searching for the woman but up to press time the mother of three was still missing.
The missing mother, Gould Marcellene Amster-dam, 37, called Massa, of Caracas Dam, Vryheid, New Amsterdam, Berbice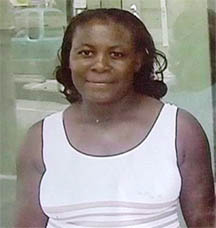 was last seen on Saturday at around 11 pm by her daughter at their home. Relatives say she would not stay away from home like this.
The woman's sister, Danell Amsterdam said from the woman's daughter she learnt the two were watching television.
The sister said, at around 11 pm Gould told her daughter that she was going over "deh", pointing in the direction of her son's father's home.
The daughter explained that when she woke up in the morning she saw the house door still open.
The daughter did not worry much since she assumed that her mother was around the village.
The sister said the child became worried after noon came and she did not see her mother.
The family is pleading with members of the public for help to find Gould. They can contact the family on 645 0593 or any police station.
Around the Web