Nations are being urged to mobilise the political will necessary to implement and operationalise the Global Plan of Action for the Protection of the Marine Environment from Land Based Activities (GPA) since coastal ecosystems contribute significantly to economies.
The call was made by Deputy Director of the United Nations Environmental Programme-Division of Environmental Policy Implementation (UNEP-DEPI) Elizabeth Maruma Mrema last Wednesday during the opening ceremony of the Second Global Conference on Land-Ocean Connections,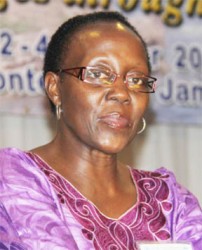 held at the Hilton Rose Hall, Montego Bay Jamaica.
"I see this meeting as re-energising the GPA," Mrema said. "My wish is that the momentum created by this meeting will not only increase the awareness of the GPA programme but will also enable us to mobilise political will necessary for its operations and implementation," she said.
"Let us all remind ourselves of the context in which we find ourselves convened today. In terms of economic goods and services, coastal ecosystems contribute at least 38 percent of the world's total GDP – as much as all terrestrial ecosystems. Open ocean areas alone provide another 25 percent. This is a substantial contribution not to be underestimated," she said.
According to Mrema, the First Global Conference on Land-Ocean Connections (GLOC) was held in Manila, Philippines over a year and a half ago. She recalled that the Manila conference brought together scientists, experts, policy makers and NGOs to discuss current and emerging issues in the marine and coastal sector with a focus on GPA-related topics. "The conference was structured around the proposed priority themes for the GPA, namely, water quality – including nutrients and wastewater; marine litter, and integrated coastal zone management at regional, national and sub-national levels," she said.
"It is a common knowledge that the oceans of the world are interlinked and as such, an action on one side of the ocean can have far-reaching repercussions on the other side. Therefore, the way we see marine litter scattered along many beaches across the globe clearly demonstrates the nature of the impacts we have to deal with under the GPA programme for which we need the concerted efforts of all of us if we are to succeed," she said.
Mrema said that in recent years, coastal habitats such as mangroves forests, salt marshes, and seagrass meadows have additional value due to their important carbon sink capacities.  "According to UNEP's Blue Carbon Report, the improved management and restoration of the ocean's blue carbon sinks would contribute significantly to offsetting global emissions and mitigating climate change," she said.
She said that with all of the economic values attained as a result of land based activities, "we also know unfortunately that a number of those activities are equally a source of great harm to the world's oceans and seas." She said, "The major causes of damage or harm to the environment come from excessive nutrients, habitat destruction and wastewater."
According to Mrema, excessive nutrients flowing into the sea from land-based activities cause harm to human health, loss of biodiversity and reduced fishing. "Imagine, some 20 million tonnes of phosphorous is mined every year and nearly half of it enters the world's oceans – eight times the natural rate of input," she said.
She added that the link between economic growth and protection of rich marine ecosystems is often ignored. "Development sacrifices the environment in an attempt to create wealth quickly to achieve immediate needs, while forgetting the long term implications of such development," she stressed.
"What should be our way forward? The marine and coastal environment continues to degrade, particularly in terms of water quality, physical alteration and destruction of habitats," she said.
"There is therefore, a need for countries and all of us individually and together to accelerate the implementation of the Global Programme of Action and other commitments, such as what came out of the Rio+20 Conference in 2012," she said. "Growing pressures on marine and coastal ecosystems require more effective management approaches, bearing in mind the new challenges of the 21st century," she said.
"We in UNEP, within our meagre resources, will be ready to leverage complementary mechanisms, such as, ecosystem services valuation, to help quantify trade-offs like improvements in water quality versus health and economic growth," she said. "The Global Programme of Action, as an inter-governmental platform, should therefore be used to promote and accelerate marine and coastal management approaches."
Around the Web