Stravo Evans, who was indicted for the murder of Pascal Johnson in 2010, was freed on September 17, by Justice Navindra Singh after he was found not guilty by a 12-member jury.
The prosecution's case is that Evans, 28, of Lot 1075 Grove, East Bank Demerara had used a gun to shoot and kill Johnson on January 3, 2010 at Laing Avenue.
Senior State Counsel Tishana Lake presented the state's case, while attorney at law Peter Hugh appeared for the defendant.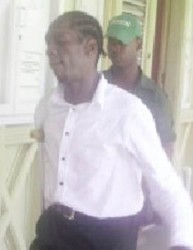 Lisa Ann Nurse, an eyewitness, had told the court that Evans had threatened to kill her and her family if she identified him. Nurse had testified that on the day of the murder she was at Laing Avenue with the deceased when Evans and another man had turned up and Evans had asked her something and she had begged him not to harm Johnson. The woman said she had fled to a nearby shop and while on her way there she heard a gunshot and it was only when she returned to the scene that she saw Johnson lying on the ground with a hole in his head.
Under cross-examination, Nurse had said that she did not see who had pulled the trigger, but she saw Evans there, as she had known him from "seeing him around." She was asked by Evans' attorney if he had a gun, and she had replied no.
Evans had led his defence in an unsworn statement in which he told the court that he did not commit the crime and he did not know who Nurse was.
Around the Web