A local craftswoman, who designs jewellery from seeds, is appealing for assistance to make her participation in the Crafts of America Festival in Ecuador a reality.
Juliana Hughes, who is behind Jah Works which is well known for its seed jewellery, was one of the awardees of the 2012 UNESCO Award of Excellence for Handicraft in the English and Dutch speaking Caribbean and was invited to participate in the festival, from October 30th to November 4th.
But while UNESCO international is providing the booth at the festival which she would use to display her jewellery, Hughes is saddled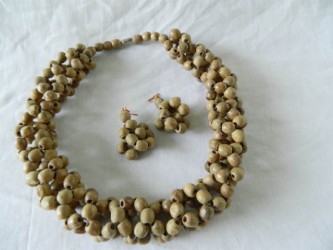 with purchasing her ticket and providing her own accommodation. She has been struggling since to get the funding.
The almost one hundred letters she sent out to businesses, persons and government entities have not borne any real fruit and at the moment she is very frustrated as her dream of participating in the festival may not become a reality.
Hughes said there have been a few businesses that gave her small sums of monies but she is still a far cry from what is needed to purchase tickets for her and her husband, who is her assistant. She has booked the tickets but the time is drawing near when she would have to pay for her flight, which is scheduled to leave on October 26.
The handicraft maker said that many persons have indicated that if she was part of a group they may have been inclined to help but she pointed out that when she takes the booth in Ecuador her exhibition would not be just about her but about Guyana.
She is appealing to the general public and to the government to assist her in making the trip a reality.
To assist Hughes persons can contact her on 649 0413.
Around the Web