Even as the mother of Michael Hamilton, who was gunned down on Monday evening, continues to accuse the police of failing to act on previous reports that her son was being threatened, a lawman close to the investigation says that she never cooperated when they responded.
"The police have umpteen reports but every time we go there she does come out and cuss up the police. We constantly patrol the area because a lot of gangs does be at the back there and every single time we get a report and we go she don' assist we. All of them contribute to what happened," the officer,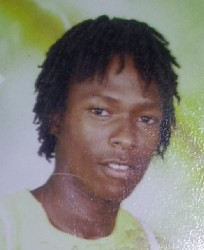 who spoke on condition of anonymity, told Stabroek News yesterday.
However, Karen Hamilton, the mother of the deceased 22-year-old, has said that the police failed to take the many reports they lodged seriously and had they done their job properly, her son's death could have been prevented. "I have been complaining over and over to the police and they always have some excuse," the woman said.
"Is more than one time these men came and shoot up by we. One time they came and asked my son if he want to go with them to this dance at the Backdam to identify the men. They tell he how they gon give he a bullet proof vest, but he refused the offer, and told me, 'Mommy I ain't trust them men, so me ain't going anywhere with them,'" Hamilton said.
The woman added that two months prior to her son's death, he was threatened and shot by one of the men. "We were at a wake in Goedverwagting and he was passing some men and one of them began to trace him. He decided to go by one of we family shop, but them boys trace he and fire shots at he and the is how he get shoot the first time in he buttocks," she recalled.
According to Hamilton, she took her son to the hospital and obtained a medical report which she then took to the Sparendaam Police Station. "The police took statements that night and even the next day and they were at the scene but they still didn't do anything proper," she added.
The woman said that shortly after the shooting, she had attended a police community outreach meeting at the Plaisance Community High School, where she had told the Assistant Superintendent at the Sparendaam Police Station about the many threats that her son was receiving, but they still did not take her seriously. "I attended the meeting and told them that my son was being targeted and threatened by these men and they still didn't do anything about the reports," she noted.
Hamilton emphasised that she was not satisfied with the work being done so far by police, while adding that her son was not involved in a gang and was unarmed at the time of his death. "I give dem police a set of evidence. I gave them pictures of the men who were threatening my son but they still haven't done anything… At the time of his death, my son was not armed with any cutlass, he was going over by his aunt," the woman lamented.
"My son had no problem with these men. My nephew and one of them called 'Trini' had a problem over some girl and they shot at my daughter and nephew before and my son had run them up the road with a cutlass and since then they keep coming back," she, however, noted.
The woman added that on the night that her son died her family and one of the officers had an exchange of words, and he had commented that her son got what he deserved. "My family told me that when the police had arrived on the scene, they told them that, 'All the time y'all ain't coming and now he dead y'all come,' to which the officer replied, 'He deserved what he get,'" she recounted.
Hamilton further stated that she believes those in the gang responsible for her son's murder are hiding out in the cane fields. "I think they are in the area all the time and night time they does come out and walk the road. The boy who kill my son, we hear that he father trying to get he out of the country fast," she added.
A relative had told Stabroek News that the family continues to receive death threats, since a teenage cousin of the deceased man had witnessed the shooting.
Around the Web