Reacting to the landmark decision by the Caribbean Court of Justice (CCJ) in favour of Shanique Myrie,  Caricom Secretary General Irwin LaRocque has called on members states which have not yet done so to make the CCJ their final court of appeal.
A release from Caricom yesterday said that LaRocque was speaking during a conference at the University of the West Indies,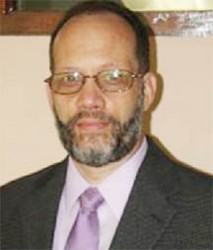 Regional Headquarters in Kingston, Jamaica on Tuesday hosted by the Sir Arthur Lewis Institute for Social and Economic Studies (SALISES).
LaRocque said the judgment on Friday by the CCJ in Myrie  versus the Govern-ment of Barbados, would cause a shift in the way affairs in the Community were conducted.
"It has also cemented the Community's rules-based system and continues to engender a high level of confidence", the Secretary-General said of the judgment.
The CCJ ruled that in 2011 Barbados breached Myrie's right of entry without harassment or the imposition of impediments. The right was breached by the denial of entry, the treatment to which she was subjected, the conditions under which she was detained and her unjustified deportation, all of which contravened the 2007 Confer-ence Decision in conjunction with Article 45 RTC.
The Secretary-General stated that the decision was far-reaching, addressing decision-making in the Com-munity, the nature and effect of Community law, obligations of Member States and rights of Community nationals.
LaRocque also contended that the ruling reinforced the critical role of the CCJ in the integration movement as an institution which will ensure that the Community's decisions were adhered to.
He said the CARICOM Secretariat was reviewing the judgment to assess the implications for the Community and its Organs.
"I am certain that the judgment will be an historical contribution to the development of the Community integration arrangements," the Secretary-General asserted.
The CCJ decision, he said, should give a considerable boost to the movement for making the CCJ the final court of Appeal in the Community thereby completing the circle of sovereignty in the Region.
"Many around the Region seem to be pleased with the judgment on this particular matter in the Court's role in its original jurisdiction.  It should be borne in mind that it is the same court and the same judges who would be empanelled to consider matters in its Appellate Jurisdiction.  I hope that this would remove any doubts about the capacity of our jurists to render judgments of the highest calibre," he said.
Around the Web