The Private Sector Com-mission (PSC) on Tuesday neglected to attend a meeting with a Commission from the OAS Mechanism for Follow-Up on the implementation of the Inter-American Conven-tion against Corruption (MESICIC) and past     PSC Chairman Ramesh Dookhoo says the umbrella body dropped the ball.
The PSC, along with several other civil society groups, including the Federation of Independent Trade Unions of Guyana, the Guyana Association of Women Lawyers, and the Georgetown Chamber of Commerce and Industry (GCCI) were invited to meet with the commission at the Cara Lodge on Quamina Street on Tuesday, but the entity was unrepresented.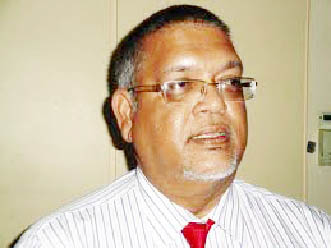 Speaking to Stabroek News yesterday, Dookhoo said that the PSC's absence was completely unintentional, and made it clear that the body was not trying to send any messages. Instead, he explained, the PSC has been extremely busy.
The current Chairman, Ronald Webster, is out of the country while several other point-persons were engrossed in ongoing activities and Dookhoo said that unfortunately, the meeting with the OAS group just fell through the cracks.
He said though, that he hopes that the Commission will still be able to accommodate the PSC in one of its remaining sessions.
The PSC, Dookhoo said, recognizes that it is an important player and therefore hopes that it will be given another chance to engage the Commission. Pursuant to this ambition, Dookhoo says he has already sent an email to Presidential Adviser on Governance Gail Teixeira, who sits on the Commission as its expert, apologizing for the PSC's absence, and requesting a meeting.
The purpose of the Commission's visit is to review Guyana's implementation of recommendations made by the Organisation of American States (OAS) to combat corruption, and to hear from civil society and oversight bodies on the matter of corruption in Guyana.
Around the Web