Lucille Ingram, the 66-year-old Sophia woman who went missing two weeks ago during a visit to the Georgetown Hospital, has still not been found and her sister continues to plead with the public to help find her.
Ingram, of 671 'B' Field, Sophia, went missing on the afternoon of September 24, after she was left alone by her sister at the Georgetown Public Hospital.
"I carry her at the hospital, left her there in the waiting area in a wheelchair… I buy something and give her to eat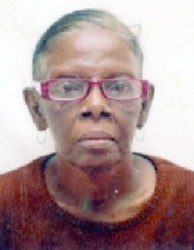 and I went home to return. She registered but did not see the doctor," her sister Dorothy Malipen had told Stabroek News.
She said she became worried when she returned to the institution and did not see her sister there and was told that she had not been seen by a doctor.
Ingram has an ulcerated stomach and it was for that ailment that she had visited the hospital.
Her sister said she reported the matter first to the Georgetown Public Hospital (GPH) police outpost and then to the Turkeyen Police Station. She was advised by the Turkeyen police to once again check the GPH outpost but her search for her elder sister has proven futile.
Ingram is not known to wander the streets and was lucid when last seen. However, her sister said that she sometimes suffers from memory loss.
Yesterday, Malipen returned to Stabroek News and through tears of desperation she said that she wanted the public to call her if they notice anyone fitting her sister's description on the streets.
Ingram is about 5 feet 5 inches tall, medium built and brown in complexion. Ingram, who wears glasses, was last seen attired in a knee-length skirt, a pink T-shirt and with a pair of slippers.
Anyone knowing of her whereabouts can contact the nearest police station or call her sister on telephone number 219-1378.
Around the Web