Minister of Public Works and Communication Robeson Benn yesterday declined to give his account of an incident which occurred on Sunday when it is alleged he ordered police to throw Andrew Livingston in the lock-ups for heckling him.
Livingston said that he was on his way to Bartica on Sunday when he saw the minister and told him that his government will lose the next election. Benn reportedly asked the man the reason for his statement, and was told "because you all neglected your own people."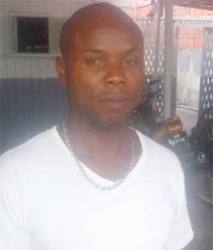 Livingston told Stabroek News he then proceeded to board a boat while the minister continued on his way.
As he was waiting on the boat to leave for Bartica, the man said,  a woman who had witnessed the exchange between him and the minister on the stelling called his attention to Benn who was approaching the boat with two police officers. He said the police officers told him that he was wanted at the station, and when he inquired what he was wanted for, they explained that they had been instructed by the minister to take him into custody. It was at this point that the police officers turned to Benn and asked him why he wanted the man detained.
Instead of giving a reason though, Benn was reported as saying, "I am the minister, take him to the station." Livingston said he was held overnight and released on $10,000 bail the next morning.
Speaking to Stabroek News yesterday, he said that to this date he has not been charged with any crime, or even told by the police why they had detained him.
When contacted yesterday to respond to the accusations made against him, the minister said he would prefer that an account of what transpired on Sunday be related by a witness. Benn said that since he was involved in the matter, his version of what transpired would be seen as biased.
Instead, he pointed this newspaper in the direction of several other people who were around at the time, and could be contacted for an account of what happened.
The minister said his driver, the supervisor of the stelling, as well as an engineer from the ministry accompanied him to the stelling, and would be able to provide firsthand accounts of what transpired.
He maintained that he "will say nothing" in response to the accusation.
Meanwhile, Livingston yesterday said he has received numerous calls from persons purporting to be calling on behalf of the minister who have apologised over the incident and have asked him to desist from continuing his campaign of publicising what transpired because it was embarrassing the minister.
However, Benn said: "Nobody has been told to call anyone on my behalf," and suggested that "someone is up to some wickedness. I would never do such a thing."
Around the Web