Eight pioneering women in the aviation industry were honoured for their outstanding contribution to the local aviation sector in Guyana on Wednesday at the Guyana Defence Force (GDF) Officers' Mess, Camp Ayanganna as the first Women in Aviation Stamp Series was launched and unveiled by Prime Minister Samuel Hinds.
The launch was part of the observances for World Post Day and two of the women, Cheryl Moore and Beverly Drake, were honoured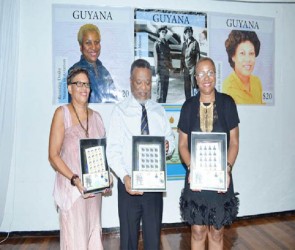 with their own $20 Guyana stamp and $80 International stamp, respectively.
The stamps were for put on sale as of yesterday with expectation that as they travels around the world people would learn of the contribution of Guyanese women to their country.
Delivering the keynote address at the launch on Wednesday, Hinds expressed delight that the unveiling of the stamp series coincided with the year that Guyana observed 100 years of flight, while noting that the pioneering women had decided to step into a field that is dominated by men. He congratulated them for the bravado and determination.
Moore was honoured as the first female military pilot, while Drake was saluted as Guyana's first female commercial pilot. The other women honoured were: Debbie Gouveia, who was the first female to captain an islander in 1982; Williette Gardner, the first female captain of a Turbo Prop Air Crafter Twin Otter; Feriel Ally, the first female Grand Caravan pilot; Paula McAdam, the first female Air Traffic Controller; Barbara Adams, the first female helicopter pilot; and Sandra Persaud, the first female to work Airport Administration at the then Timehri International Airport.
"We salute you, we honour your sacrifice," Chief-of-Staff of the GDF Brigadier General Mark Philips said at the launch, while praising the women for women for choosing the army as the place to start their career in aviation. Philip pointed that Drake was once a 'motivator' for the men in the army.
Meanwhile, Transport Minister Robeson Benn thanked the pioneers for their efforts in developing Guyana's local aviation industry, while indicating that the 21st Century belonged to women.
He explained that Guyana would not become "fully" liberated or developed unless women are given the freedom to work in any sector of the labour force. "They can do everything that a man can do," he said, while also noting that the men should not feel threatened by women's presence.
"Aviation is the critical means of bringing our people into Guyana, moving people in and out of our country, both in the interior, in the region and internationally," he said, adding that the government has taken the steps, despite "unfortunate" challenges, to advance the local aviation sector.
Around the Web