The Guyana Post Office Corporation (GPOC) on Wednesday celebrated several achievements, including the introduction of the InstaPay bill payment system, at observances to mark the Universal Postal Union's (UPU) 44th World Post Day.
Prime Minister Samuel Hinds joined other invitees to commemorate the day which was held under the theme 'The Post, delivering for people and business daily.' Hinds noted that the post office's roles are challenging, particularly in the light of rapidly emerging and steadily changing information and communication technologies.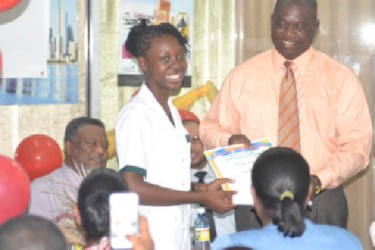 "We must all spare some time to reflect on the greatly changed situation in which the post exists today. It is very true, as many opine that steadily-emerging information and communications technologies have been steadily     eroding the role of the post as a means of communicating information," he said.
According to a Government Information Agency (GINA) press release, the GPOC introduced its rebranded and improved payment software, 'InstaPay' that has the capacity to offer real-time bill payment and money transfer services at competitive rates. The service is powered by the Roraima Financial Services.
Earlier this year, GPOC implemented its 24-Point Plan, which aims to reduce expenditure, increase revenue and to re-focus on customer service. Other objectives include maximising the local priority mail services and the direct mail services, re-assessing the security arrangements in the context of risk, reviewing tenancy engagements, transportation efficiency and a robust public awareness programme, among other ventures. GPOC will also be introducing its first series of the 'Guyana Women in Aviation' stamps in honour of its first female commercial pilots.
It was also revealed that the entity is considering entering the financial market, by providing postal financial services as well as parcels and logistics services.
The GPOC also used the opportunity to honour 15 of its employees with 'Best Employee of the Year' awards and presented an award to the top Caribbean Secondary Examination Council (CSEC) student of St Rose's High School, along with bursaries to six employees' children who excelled at the CSEC and the National Grade Six Assessment.
The GPOC also awarded prizes to the top three writers that participated in its 2013 letter writing competition which attracted participation from over 150 individuals. The first prize winner is Desiree Pierre of the Dora Secondary School; the second prize went to Alicia De Abreau, also of the Dora school and third to Ramona Bhopaul a student of the Bygeval Secondary School.
Around the Web