A brief temblor said to be of around 6.2 on the Richter Scale struck around 10.13 pm tonight off Venezuela and was felt in Trinidad, Georgetown and other parts of Guyana.
City residents felt around a three-second tremor which had many asking questions about the source of the earth-shaking.
The earthquake was said to have occurred 33km N of Gueiria, Venezuela, according to the website www.volcanodiscovery.com. The website featured reactions from Trinidadians, Venezuelans and Guyanese about what they had felt.
Moderate shaking was experienced in many parts of Trinidad, according to the website, and the duration of the temblor closer to the epicentre was between 15 and 20 seconds.
The US Geological Survey is reporting that the earthquake occurred at a depth of 79.4 km. The quake was fifty-three miles west of Port of Spain, Trinidad and Tobago, sixty-two miles west of Port Fortin and sixty-three miles west of Tunapuna as well.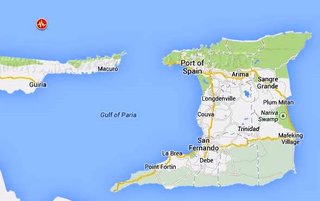 A news item in today's Trinidad Express follows:
(Trinidad Express) Trinidad was rattled by a magnitude 6.4 earthquake (preliminary data) Friday night, causing fear and unease among citizens concerned that it was intense enough to have caused damage, or trigger a tsunami.
However, there were no immediate reports of damage, and no tsunami warning was issued.
The earthquake was strong enough to cause disruption of the electricity supply, with T&TEC reporting issues at its sub stations in Carenage, Pt. Cumana and Santa Flora.
The Office of Disaster Preparedness and Management issued a statement to advise citizens that it has put all first responder agencies on alert so that immediate assistance can be rendered if any adverse impact occurs. "Citizens are reminded to contact 511 if they have been adversely affected", the ODPM stated.
According to the University of the West Indies Seismic Research Centre , at 10:10pm local time, an earthquake occurred north of the Paria Peninsula, Trinidad. The event was located at 10.86°N 62.12°W. The magnitude was 6.4 and depth 60km.
Social media immediately lit up, with people sharing their experiences following the shake which lasted for a lengthy period and which occurred during the local government campaign meetings of the United National Congress in Debe, the Movement for Social Justice in Point Fortin and the Independent Liberal Party in Princes Town.
Some reported pictures becoming dislodged from walls, and objects toppling from cupboards and cabinets. Others said they screamed and took cover under door frames. Many said they paused and prayed.
The quake is the latest in a series, the last occurring on Monday 9th September, at 9:54am, west of Trinidad in the Gulf of Paria. The event was located at 10.25°N and 61.75°W. The magnitude was 3.8 and the depth 76km. There were felt reports from St. James and Diego Martin, Trinidad.
On Tuesday 27th August, 2013 at 7:59am local time an earthquake occurred North-west of Trinidad. The event was located at 10.76°N and 61.79°W. The magnitude was 3.9 and the depth 57 km. There were felt reports from Cocorite and Maraval, Trinidad".
.
At 10.45 a.m on August 8,an earthquake occurred north of the Paria Peninsular, which is off Trinidad northwest coast.
"The event was located at 10.72N 62.33W. The magnitude was 3.8 with a depth of 77km. This event has been reported to be felt in Port of Spain Trinidad", the SRC stated.
At 10:56a.m on August 6, a quake was recorded north of Paria Peninsula.
The SRC gave the location as 10.75°N 62.13°W. The magnitude was 4.1 and depth 54km. No injuries or damage were reported.
Around the Web