Khodesh Daljit, 22 of No 4 Settlement, Blairmont, West Bank Berbice was yesterday charged with the murder of a Hosanna Street, Rosignol, West Bank Berbice teen, who succumbed in hospital days after a fatal blow.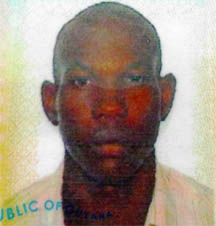 Daljit is accused of delivering a blow to the head of 19-year-old Shelton 'Buju' Joseph, of Hosanna St, Rosignol on September 27, causing him to succumb at the Georgetown Public Hospital on October 6.
The self-employed man, who was unrepresented was not required to plead to the capital charge when it was read to him by Magistrate Rondell Weaver at the Fort Wellington Magistrate's Court.
Daljit was remanded to prison and the case was adjourned until November 11, when it will be called at the Blairmont Magistrate's Court for report.
Joseph was trying to rescue his close friend and was towing him on his bicycle when he was reportedly lashed to his forehead and left eye with a piece of wood. Results from the post-mortem examination proved that the he died from cerebral haemorrhaging due to blunt trauma.
Around the Web