A fisherman will be spending over 10 years in jail after being found guilty of robbing a Bounty Meat Centre security officer of his gold band, gun and car, but has been spared a conviction over the $6.5M stolen during the ambush.
Gromyko Gomes was sentenced to serve 120 months in jail and fined a total $200,000 by Magistrate Judy Latchman at the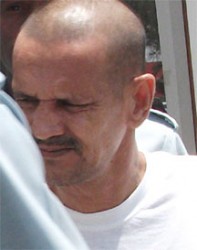 Georgetown Magistrates' Court, where Gomes, 48, of Lot 6 River View, Ruimveldt, was on trial.
The charges against Gomes stated that on December 4, 2012, at Water Street, between the vicinity of John Fernandes Warf and Muneshwer's, while in the company of two others, he robbed Vincent Da Silva of a gold ring, valued $100,000, a .32 revolver and 15 matching rounds of ammunition along with a motor car, valued $2M, representing a total value of $2,200,000.
He was also charged with unlawful possession of the gun and ammunition.
The remaining charge against Gomes stated that on the same day he robbed Da Silva of $6.5M but this charge was dismissed by Magistrate Latchman, who found that no case was made out because Da Silva could not identify Gomes as the assailant who removed the money from the car.
Gomes, who was represented by attorney Adrian Thompson, had pleaded not guilty to all charges.
The police's case as presented by prosecutor Vishnu Hunt was that on the day in question, Da Silva, a security guard attached to John Fernandes Limited, was driving motor car PNN 2145 heading to the company's main office.
Hunt said that Da Silva observed Gomes with a push cart in front of his vehicle, which led him to assume he had hit Gomes and as a result he ventured out of his vehicle to inquire.
When Da Silva exited the vehicle, Gomes pulled out a hand gun andwas joined by two accomplices, who were also armed.
The men then relieved Da Silva of the articles mentioned in the charge.
Gomes, when asked by Magistrate Latchman whether he had any prior convictions, said that he was sentenced to 30 days in a psychiatric facility in Suriname because he doused another man with gasoline after he was attacked with a knife.
In delivering the       sentence, Magistrate Latchman informed Gomes that based on the facts put forward by the prosecution and witnesses in the case it was safe to conclude that the attack was planned.
Latchman said that he had pretended to have been injured by Da Silva's car in order to carry out his plan to attack and rob Da Silva. She also took into consideration the seriousness and prevalence of the crime.
Among the mitigating circumstances she took into consideration was the fact that Gomes is the father of nine children.
The magistrate then informed Gomes that he was sentenced to 60 months imprisonment for the $2,200,000 robbery, which was to be followed by 60 months imprisonment and $100,000 fine for illegal possession of a firearm and another 60 months and $100,000 fine for illegal possession of firearm.
However, the two latter sentences are to be served concurrently.
Around the Web