A fruit exporter was yesterday remanded to prison for allegedly smuggling over 20 kilos of cocaine in hollowed star apples to Canada.
It was alleged at the Georgetown Magistrates' Court that Charles Anderson, 40, of Lot 345 Enterprise, East Coast Demerara, between January 24 and January 25, 2012, at the Cheddi Jagan International Airport, Timehri, had 20.056 kilos of cocaine in his possession for the purpose of trafficking.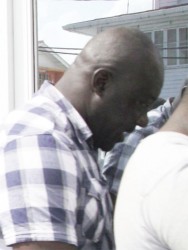 Anderson pleaded not guilty when the charge was read to him by Magistrate Fabayo Azore.
Customs Anti-Narcotics Unit (CANU) prosecutor Oswald Massiah told the court that Anderson exports fruits to the United States and Canada.
He said that between January 24 and January 25, 2012, Anderson exported fruits to Canada and after the shipment arrived in Canada, authorities there discovered cocaine in hollowed out star apples. Massiah said the information was forwarded to the CANU office and investigations immediately began.
Anderson was later arrested and cautioned. He said that Anderson admitted to having knowledge of the drug being present in his shipment but said that he was given the star apples to ship by someone else.
Massiah said, however, that Anderson claimed that he had no concrete contact information or the address of the person who gave him the star apples to ship. He said that CANU officers searched for the alleged supplier but were unsuccessful.
Subsequently, Anderson was charged with the offence.
Massiah objected to bail based on the quantity of the illegal drug found and his belief that Anderson supplied faulty information to CANU officers. He also suggested that the defendant was a flight risk and if granted bail he may not return for trial.
Attorney Mark Waldron, who represented Anderson, said that his client is the father of 4 children and added that the charge brought by CANU was prejudicial.
He said that his client exports fruits for other persons and not only for himself. He also noted that Anderson does not have the equipment to properly check packages for illegal substances.
Waldron said that since CANU is saying that 20.056kg of cocaine was found in star apples, he cannot understand how they let that amount of narcotics slip pass them at the airport since they are much more equipped than his client to perform such checks.
He also said that Anderson did not provide faulty information to CANU officers since two CANU officers had their services to CANU terminated for leaking information to the alleged supplier.
Waldron said that it has been over a year since Anderson has been under investigation and he questioned why he would want to flee the country now if he had not done so before.
Nevertheless, Magis-trate Azore refused bail and adjourned the case until October 14, when it will be called at Court One.
Around the Web