Two men were yesterday read drug trafficking charges after being held during the alleged transfer of eight kilos of marijuana found in the trunk of a car on the premises of the La Familia Hotel.
Marlon King, aka 'Red Man,' 41, of Lot 19 Roxanne Burnham Gardens, and Carlos Fausett, aka 'Carro,' 30, of Fort Ordinance Housing Scheme, East Canje Berbice, pleaded not guilty to the charges at the Georgetown Magistrates' Court.
They were both remanded to prison by Magistrate Fabayo Azore, who heard that they were picked up during a Customs Anti-Narcotics Unit (CANU) stakeout.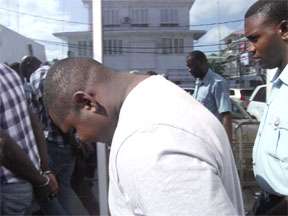 It is alleged that on October 19, at Aubrey Barker Road, the men had 8.206 kilos of cannabis for the purpose of trafficking in their possession.
CANU Prosecutor Oswald Massiah told the court that acting on information, CANU officers went to Aubrey Barker Road within the vicinity of the La Familia Hotel.
Massiah said that during the stakeout, a car pulled up with King inside.
King, he said, came out of the car with a suitcase and proceeded to another parked car, which was close by. He said that as King approached the car, the lid of the trunk popped open and he placed the suitcase inside of the car trunk.
Massiah said that subsequently, CANU officers went to the car and upon their approach of the location where it was parked they were confronted by Fausett, who claimed the car was his.
A search was conducted on the car and the suitcase, which led to the discovery of 18 packs of leaves, seeds and stems, suspected to be cannabis. The duo was immediately cautioned and arrested.
Massiah added that Fausett denied having any knowledge of the drug to CANU officers although he claimed the car was his.
He objected to bail based on his suspicion that other persons may be linked to the crime.
He also felt that if granted bail, it is very likely that the duo may not return for trial.
Attorney Melvin Duke, who represented King, said that King's statement was taken under questionable circumstances, since he was ill at the time he was arrested and questioned by CANU officers.
He said that his client had no previous convictions and in the circumstance he asked for reasonable bail to be granted.
Magistrate Azore refused bail and the case was adjourned until October 14, when it will be heard by Chief Magistrate Priya Sewnarine-Beharry at Court One.
Around the Web