Leader of the Opposition David Granger yesterday condemned Thursday's actions by a Venezuelan navy vessel in Guyana's territorial waters and called for a strong diplomatic response by the Government of Guyana.
According to the Foreign Affairs Ministry, a Venezuelan naval corvette – PC 23 Yekuana – entered Guyana's waters around 16:00 hrs on Thursday October 10 and instructed seismic survey vessel Teknik Perdana to proceed to Venezuelan waters. The latter vessel was at the time conducting seismic surveys for oil company Anadarko.
Speaking on the issue at a press conference at his office, Granger said he was aware that yesterday's incident must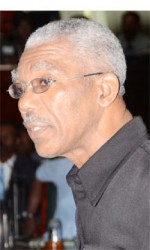 be seen as linked to the one at Eteringbang on August 31. At that time, a group of Venezuelans, escorted by Venezuelan military personnel, crossed the border into Guyana.
"You should bear in mind that that was during the visit of President Maduro to Georgetown. So it is not an accident that it was timed as a calculated move by elements in Venezuela to embarrass President Maduro because those elements felt that President Maduro was appeasing Guyana on the matter of Venezuela's territorial claim," Granger told reporters yesterday.
"So I do link the events – President Maduro's visit and the Eteringbang incident – with yesterday's incident. I would also like to link it with President Chavez's visit to Guyana," he said.
He recalled too that in 2000 there was the CGX Energy Inc, where Suriname gunboats forcefully removed an oil rig which was exploring for oil offshore Guyana.
"But there was also an attempt by Venezuela to coerce Guyana away from the Beal [aerospace] station that was to be established in the Barima Waini region," he said. "As you know Venezuela took a very strong line on that matter. But after certain incidents in Venezuela, President Chavez modified his stance and it is because of that modification of the stance that elements in Venezuela have taken the opportunity of President Maduro's election to press a stronger line… I do believe that the Venezuelan Navy has acted in a manner inconsistent with the line that has been taken by President Maduro himself when he was in Georgetown, when he gave the impression that Venezuela was prepared to resolve this matter diplomatically and to not to use force," he said.
"These events show that there are elements in Venezuela bent on reviving the claim to the Essequibo," he said.
He said he had asked the Minister of Foreign Affairs for explanations into the Eteringbang incident and there will be a full statement from the APNU on both incidents.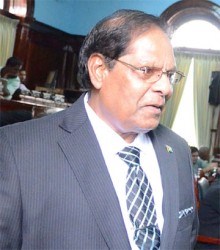 He said the main option for Guyana is embodied in the United Nations Charter – Article 33, which spells out measures for the peaceful settlement of international disputes. "So Guyana's strength is in a diplomatic response. That is the first option. The second option is of course to use the Good Officer process," he said.
"We are calling on Venezuela to resort to diplomatic settlement of this issue. If there is any question of the legitimacy of the seismic survey, this could be handled diplomatically. Just as how the Eteringbang incident did not evoke an armed response from Guyana, I don't believe that if there was any objection to the seismic survey that armed force should have been used. Armed force is not acceptable between Guyana and Venezuela," he said. At a press conference held yesterday, Alliance for Change Member of Parliament Moses Nagamootoo said the party feels very strongly about the territorial integrity of the country. "We don't feel that any other country could interfere with our peaceful pursuits within our territorial waters or boundaries," said Nagamootoo. "On the alleged incursion and alleged detention of vessel conducting seismic offshore evaluation, we would need more information at this point in time before we make any comment," he said. "We are cognisant of the fact that Venezuela and Guyana enjoy good relations and that we are two sister countries of the hemisphere and of the Caribbean," he said.
Noting that that President of Venezuela Nicolas Maduro said that Guyana and Venezuela had good relations, Nagamootoo said that he will have to look to see what has changed in this relationship. "We need to be told everything," he said.
He said one would expect that President Donald Ramotar would have invited the Members of the National Assembly to a briefing on any breach of the nation's territorial integrity and "lay before us all the facts before you ask us to rally to a cause."
Around the Web