This week the Guyana Women Miners Organisa-tion (GWMO) is to begin collaboration with BK International on a training exercise. This will see two women being trained to operate heavy duty machinery one of whom will also learn construction.
Since it started almost two years ago the organization has been touting the training of women in areas of work in the interior other than mining, and its President Simona Broomes recently told the Sunday Stabroek that they have finally been able to hammer out an agreement with the company to initially train two women with more to follow.
"Persons always say that we are only fighting with trafficking in person (TIP), but we have been dealing with some really serious mining issues affecting our members, and been working on getting training for our ladies," Broomes said.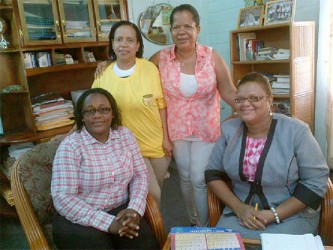 The training programme is set to last initially for three months Broomes said, adding that at first the two women, including one of the survivors they rescued during one of their TIP missions in the interior, will be trained by BK.  During the training the company will provide accommodation and meals for the women and they will also be given a stipend of $35,000. This will be placed in a bank account for the survivor, Broomes said, with Managing Director of BK, Brian Tiwari, indicating that if she does not make a withdrawal during the three month period she will receive 10% more per month on top of the stipend. According to Broomes this is in an effort to encourage the woman to save.
And come December a one week programme designed specifically for women miners will commence at the Carnegie School of Home Economics and it will look at the preparation of food, pastry baking and food handling among other things. Broomes said they met with the institute's head Penelope Harris, and had successful talks, although it is not clear how much this programme will cost. She said that they are aiming to improve the services provided by women cooking in the interior and also have them issued with food handlers' licences.
"We want them to have a certificate from Carnegie, so should someone come call us and tell us they are looking for a female to cook we want to lift that profile for women cooking in the interior and be able to identify persons who could be employed," she said.
And one of the organisation's members has been battling with a foreign company as she almost lost the mining claims she has been working on for 20 years, but with the intervention of the Minister of Natural Resources and the Environment Robert Persaud, the woman may soon return to her claims.
"We are now on the final lap but it is not so satisfying that this had to take us a whole year and more to be addressed and she has not been working…she just running a little telephone business, she is a single parent…" Broomes said.
She also said that the former Commissioner of the Guyana Geology & Mines Commission (GGMC), William Woolford, has been conducting continuous education forums on the mining laws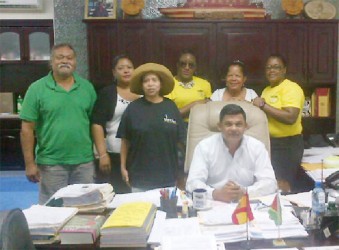 and regulations with the members and he has also helped to represent members whenever they have to present a case before officials, and for this the organization is grateful.
Support
Meantime, Broomes said the support the organization has been receiving from citizens as it pertains to trafficking in persons is overwhelming, coupled with backing from the religious community and other non-governmental organisations. She said the diplomatic corps has also been very supportive and they continue to appeal for support to all who share the vision to rid the country of human trafficking, since the GWMO remains unfunded.
However, there has been no meaningful interaction with the government in terms of collaboration and she said it is their hope that they would have exercises conducted in the mining areas which would be tripartite, including the GWMO, GGMC and the police. However, while there had been some talks, nothing concrete had resulted. She said for the first time officials from the Ministry of Human Services & Social Security's TIP unit met with the organization and she thinks that is a good sign, while Minister Jennifer Webster has been very accommodating to the GWMO in recent times.
The organization plans to engage newly appointed Commissioner of Police Leroy Brumell in an effort to get him to understand their work and the importance of police support. She said she understands some in the force are not keen on her publicizing the GMWO's efforts to address trafficking, but noted that the media are only reporting what is happening in the interior.
"The media wants to bring this alive, the media wants change just like us as an NGO, so it is not for one to take it in a negative way as we don't by advocating in any way mean to destroy the police force…" Broomes said that her organization has been seen as an enemy to the force by some.
She pointed out that in taking his oath Brumell said no man is an island and as such he should allow the GWMO to join with the police and to bring the crime of trafficking in persons to the awareness of the force.
"The commissioner is appealing for citizens to report crime and that is what we as an NGO is doing, we are just reporting a crime."
Broomes said that her organization will be working towards ensuring that Guyana is removed from the Tier 2 Watch list as it relates to human trafficking, noting that most of the recent cases before the courts are those that they were involved in.
"If we had been embraced [from the inception] I think when it comes to trafficking in persons I think the whole world would have been proud of us at this time…" she said.
She said the prevalence of trafficking in persons in Guyana is worse than many assume, and she described it as a "nasty hidden crime" that many persons are not aware of.
"We are an organization with a difference; we are miners, we know the terrain…we know the hills and the valleys…" Broomes said, adding that with the right support they can really help to frontally address the issue.
And, Broomes said she is still to hear from the police in relation to allegations made against her by TIP accused Ann Marie Carter, who reported that the GWMO president assaulted her and stole a gold chain.  Broomes had made an official complaint to the office of the Director of Public Prosecution (DPP) following her arrest by the police since she felt that she was being targeted. The DPP has since informed Broomes that a file had been sent to her office and had since been returned to the police, so the GWMO president went back to the police but they indicated they were not ready for her. She said she told them to call her when they are ready, but she is yet to be contacted.
Around the Web