Just over a decade ago, Leslyn Joseph was warned that mercury in her body was at dangerous levels. Tests had revealed that a high percentage of persons assessed within her community, Isseneru, had levels almost double the reference level for humans.
"They tell me I had high mercury. They stop me from eating too much of fish," Joseph, now 26 and pregnant with her fifth child, recounted to Stabroek News in the Region Seven (Cuyuni/Mazaruni) community last week. The results from the studies which were funded by the Canadian International Development Agency (CIDA) through the Guyana Environmental Capacity Development Project (GENCAPD) showed that 89% to 96% of the population surveyed in Isseneru had dangerous levels of mercury contamination as examined by its presence in human hair. Based on advice from health officials, Joseph said that she subsequently ate less fish.
From using fish three or more times a week, Joseph said that now she eats fish about once or twice a week.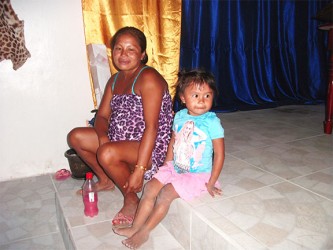 But, she said, this is due more to the scarcity of fish rather than any concern about mercury. "I forgot about it," she said with a laugh, even as she noted that villagers are catching less fish as a result of the increasing pollution of the Mazaruni River due to gold mining.
The health centre in the community, which is surrounded by gold mines, no longer warns about mercury as it previously did, according to Joseph, who added that eating fish is a way of life for residents and they do not really think about the consequences of possible mercury contamination.
Mercury is toxic to human health, posing a particular threat to the development of the child in utero and early in life, according to the World Health Organisation. Mercury exists in various forms: elemental (or metallic); inorganic (eg mercuric chloride); and organic (eg, methyl- and ethyl mercury), which all have different toxic effects, including on the nervous, digestive and immune systems, and on lungs, kidneys, skin and eyes.
Mercury released in the environment results mainly from human activity, including gold mining. Once in the environment, elemental mercury is naturally transformed into methylmercury that bioaccumulates in fish and shellfish. People are exposed to methylmercury mainly through their diet, especially through the consumption of mainly predatory fish and, in some cases, marine mammals that consume fish.
In Guyana, miners have used mercury to separate gold for decades, but part of it is lost in the process, contaminating rivers and soils. Mercury is primarily used to create an amalgam with the gold, and is later heated to separate it. In the process of heating, unless a retort is used, the mercury then enters the atmosphere, and precipitates back into the water, from where it enters the ecosystem, and the food chain. A retort is a closed container, which traps and condenses the mercury vapour without releasing it into the atmosphere.
However, some miners use mercury in sluice boxes which eventually leads to the pits being spiked. This system of mercury use is particularly dangerous, as it introduces mercury directly into the water system.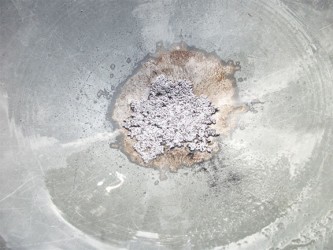 The GENCAPD study had suggested a link between the levels of mercury contamination and the amount of fish consumed.
Toshao of Isseneru Lewis Larson said that while the health of the people as a result of mercury contamination is of concern, eating fish is a way of life for the residents of the mainly Akawaio community. He said he has not observed any adverse effects. "That is the main diet, it hard for the people to come off from it," Larson said, while adding that the people are aware of the possible effects.
The village leader said that after an awareness campaign by the Ministry of Health several years ago, persons have gone back to their normal pattern of fish consumption. He said that some people eat fish everyday but these persons are in the minority with the majority eating fish once or twice a week. He said that there are other meat sources but beef and chicken, which have to be brought down from the coastland via air or road then by river to Isseneru. This makes the meats costly and some people cannot afford to purchase them. Besides, people are accustomed to fish, he said.
Lewis echoed other residents, who said that another study should be conducted to determine whether mercury levels in their bodies had decreased.
The community's health worker Jacqueline Joseph said that the awareness programme saw most people lessening their consumption of fish but she does not know what the situation is now. "I think most of them, whenever they get it, they use it but not every day," she said. Joseph said that she still warns pregnant women about the effects of mercury but also advises them to use fish whenever they can get it, saying that the fish has protein and pregnant women need protein whenever they can get it. She stressed that many people do not eat fish everyday anymore.
Joseph said that another study should be done to determine the levels of mercury contamination in residents today.
Teacher at the Isseneru Primary School Cedrick Wilkey said that fish consumption in the community has reduced due to the contamination of the Mazaruni River as a result of river dredging. However, he noted that the cost of living is high and so residents still venture farther and farther away as well as up small creeks to catch fish. He said that information about mercury and its effects has been disseminated but how much impact it has had is hard to tell. "That's what people depend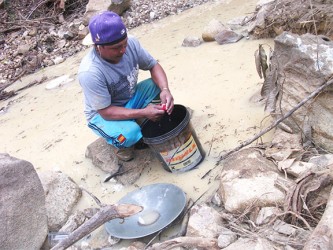 on for their livelihood. Some people don't have money to buy meat from outside," he said.
Benjamin Ritchie, 66, said that it was a shock to him when he was told by the researchers that mercury was detrimental to health. "I was one of the person who have it in my body system," he said. But, he said, he has not reduced his fish consumption. "Is every day I eat fish…you gotta catch your meat," he said while explaining other meats are expensive. "I don't think about it. It doesn't matter. I got to eat something for livelihood," he further emphasized.
Ritchie also said that the researchers should come back and test the levels of mercury in the residents.
Subsequent testing by the GENCAPD after the initial assessments had found lowered mercury levels at Isseneru.
Residents of Isseneru are also deeply involved in gold mining and use mercury to recover gold. At one mine visited by Stabroek News, mercury was used in the sluice box with the miner using his bare hands to mix the element into the gold-bearing soil recovered from the mat. Eventually, the amalgam, which was silver in appearance due to the mercury, was placed in a rag and squeezed to force out some of the mercury. The amalgam was later burned to remove the mercury. The process used at that mine shows that residents are also exposed to mercury in other ways other than fish consumption.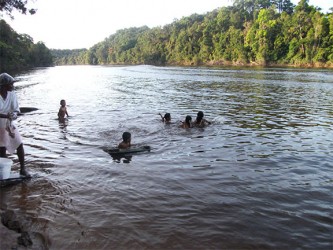 Meanwhile, Larson said that because of concerns about mercury contamination, the village had plans to do a poultry farm but this has not materialised as yet as the previous council was focused on other projects and there was also the questions of funds. "We would really like to do that because it would generate funds later on," he said, while adding that they will not be doing mining all the time so they will be looking at other economic ventures.
Other persons interviewed were nonchalant about the possible impacts of high levels of mercury contamination. "I eat fish because sometimes that is the only food or meat we could depend on," Shawn Joseph said.
Around the Web