Maybe it was the 'rebel' inside of young Williette Alleyne who wanted complete freedom to choose a career path, but she would prefer to tell you that she was inspired by a speech by the late President Forbes Burnham to move into the aviation field.
The last of six children, all of whom initially followed their mother's example and became teachers, Williette, now Williette Gardener, would have none of it and decided from a very young age that she was not going to be a teacher. The fact that she opted to climb trees and fish in the neighbourhood trenches instead of staying at home to play with dolls, demonstrated that she was very assertive as a child and while she watched her brothers and sisters enter the classroom as educators she pledged she would not be doing the same.
Nevertheless as a young teenager she was not sure what career she would choose and so that is how the speech by President Burnham became an important factor.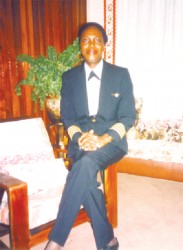 "Everybody in my family taught and I was expected to teach but for some reason I didn't want to do it and I didn't have a career goal in mind until probably around fourteen years old…"she said.
It was at that age she heard the speech in which the late president threw out a challenge to young women to get into non-traditional female occupations.
"He said Guyana needed engineers and pilots, civil engineers…" Gardener told the Sunday Stabroek in a recent interview, adding that the more she thought about what he said the more she liked the idea of aviation and after graduating from high school she applied for a scholarship to learn to fly and she got it.
"So basically that is how it all started," she said matter-of-factly.
"I heard a speech, something in that speech touched me and I just figured why not just try," she said adding that if she had not gone into aviation, medicine may have been her next choice.
And today, over 35 years later Gardener was one of the eight Guyanese women in aviation who were recently honoured by the government and the Guyana Post Office.
"It was a career path I happened upon but one I do not regret," Gardener said with a sense of satisfaction.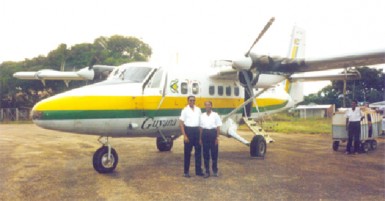 Accepting
While she made the choice  it was even better that her parents were accepting, as she said they recognized the 'rebel' in her and they understood, surprising her by encouraging her to follow her dream, even though back them it was seen as an unusual career for a woman.
Since she was sent to Cuba to study it meant that Gardener had to learn Spanish, and today she is fluent in the language. After four-and-a-half years in Cuba she returned and joined the Guyana Defence Force (GDF).
Interesting, was the word she used to describe her years as a pilot with the GDF and more important for her was that her many travels around the country allowed her to see Guyana in its entirety, its vastness and the beauty of the interior.
"For me it is an unparalleled view… to me it is unusual and being in the army and later on in the national airline allowed me to see Guyana as most Guyanese never see it and it allowed me to travel," she said with a sense of satisfaction.
In 1985, Gardener continued her studies when she went for further training at Flight Safety International, Florida, USA which allowed her to fly commercially and as a result she was seconded to Guyana Airways Corporation (GAC) where she remained until it folded in the late nineties.
Flying commercially was a fascinating journey, according to the mother of one daughter and the grandmother of one grandson, since it allowed her to develop her career and fly in different  countries.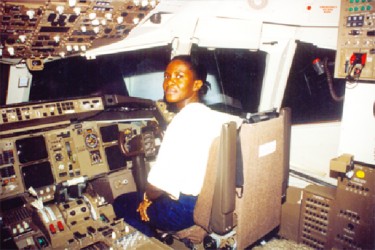 In 1995, Gardener became the first woman in Guyana to become Captain of a turbo-prop aircraft and in the same year she achieved yet another first when she went to Minneapolis, Minnesota, for training on the Boeing 757 Jet aircraft.
"So my time at the Guyana Airways from 1987 to 1999 really was a fantastic journey where I was able to develop my career from being a commercial pilot to becoming an airline transport pilot and flying the Boeing 757 Jet internationally to Canada, the USA and other places… For me it was a fascinating journey of learning, it was a fascinating journey of growing and it was interesting," she said.
'Challenging'
Gardener admitted that the fact that it was a male-dominated world provided some challenges, coupled with the fact that it was an area she had no knowledge of and there was no one she knew that she could have asked.
"It was just like a clean slate and I could just write the challenge and I figured I would do my best," she said.
She said her determination to do her best eventually saw her being accepted among her male peers even though there were a few persons who did not agree to having women in the cockpit.
"That did occur, but I think once we proved that we were up to the job and that we were quite capable of doing the job, then it became it easy. I wouldn't say I had a difficult time but do I remember some challenging situations…" she said.
Plaisance being a small village at the time, Gardener recalled that many villagers were not very  accepting of the idea and advised her parents against it, particularly since was going off to Cuba and many did not know much about that country back then.
"I think people were afraid that aviation was a dangerous pursuit and it was not… an everyday career; it was not something that everyone knew a lot about so people were very sceptical."
Even after she returned from Cuba she recalled many persons asking her if she would continue, warning her that it was  a dangerous career path, but "I have always maintained then and now that it is much safer than driving a car."
She said even though more people fly today aviation is still viewed as something many of them don't want to a part of and they are just interested in being flown safely to their destination.
'More women'
And while there have been eight female pilots in Guyana and many more around the world, Gardener said the number of women in aviation still has a very long way to go, however, it was a good thing that women in Guyana were encouraged to enter this field and this was not frowned upon.
Gardener said she was surprised that the women in aviation had been recognized but said she hoped it serves to motivate more young women to follow their heart even though it might appear weird.
"I am hoping some little girl who is somewhere in school that is thinking about something outside of the box that is not a traditional female profession, gains encouragement from seeing all of us being honoured and knowing that we did it thirty years ago and so she can definitely do it."
Gardener's mother, Geraldine Alleyne, was a well-known school teacher and taught at the then Plaisance Methodist School which is now the Plaisance Primary School, and by the time she retired she would have served the school for 48 years.
"So education and continuing our studies towards a career was an important part of our lives. It was something we were all encouraged to do regardless of what path we choose," Gardener said as she reflected on the woman that was fondly known as 'Teach' by many.
Her father, Llewellyn Alleyne, was the disciplinarian in the family but he was the one who encouraged his three daughters to pursue higher education and become independent. He was an accountant by profession and in the latter part of his life he was the Plaisance Village Chairman.
"He had a fierce passion for his daughters being independent and pursing education;  he believed education was our ticket to great things…and we have passed that on to our children and I must say that I am very pleased that all my nieces in particular are professionals and I think that was passed on from my dad," Gardener said.
All five of her siblings taught, but eventually some of them branched off into other areas. Today there is a police officer, statistician, education officer and a professor in the mix of things.
"I was the one who broke the mold," she said a smile.
Following the folding of GAC Gardener migrated to Canada as both she and husband, Derek, were employed with the airline and they were forced to leave with their daughter in order to seek employment. She described the move as an "interesting transition" but added that flying in Guyana prepared them both to fly in other parts of the world.
Today, she still flies and her husband is one of the training pilots at the recently launched Fly Jamaica Airline. Gardener said she would 'hang up' her gloves in another three to five years and if it is possible she wants to get into the training aspect of things since there are opportunities out there.
Around the Web