When Karamchand Panchoo, 71, a watchman was found murdered at Don Robin Farm, Corentyne on May 13, 2012 his relatives' only desire was for his killer(s) to be brought to justice.
They were relieved when police arrested a man: Seetal Samaroo, 38 of 279 Number Two Village, East Canje and placed him before the court.
But their pain returned and they were just as disappointed when the case was discharged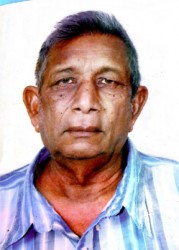 at the magistrate's court because of a lack of evidence.
Panchoo, known as 'Guru' of Nigg, Corentyne was working at a fowl farm at the time of his demise. He was found face down in a pool of blood with a wound to the back of his head.
Crime Chief Seelall Persaud had told this newspaper, "Somebody lashed the man in the head. Is one lash, which is consistent with compulsive action when people lose control," he said.
The results of a post-mortem examination proved that he died from fractured skull compounded with multiple injuries. Police had ruled out robbery as the motive for the murder because nothing was stolen.
According to police investigations, Panchoo and another watchman were on duty at the location about 8:30 pm, when they were confronted by three men, one of whom was armed with a cutlass and the two others with sticks.
The two bandits with sticks took one of the watchmen a short distance away, while the other with the cutlass remained with Panchoo.
His wife, Iris Karamchand told Stabroek News that the other watchman who was the main witness never showed up at court despite being served several summons.
She lamented that it was his fault that the matter was discharged and was disappointed that the police and the judicial system were not persuasive enough in getting him to attend court. She insisted that there should be a reopening of the matter.
The man who claimed that he was tied up when Panchoo was murdered was also taken into custody but was subsequently released. He had said too that he saw when the man lashed Panchoo who hollered, "Me know yuh!"
She called on the police to re-arrest the watchman, said to be in his 50s because he may be able to provide more information than he had initially produced.
She was planning to "go and meet the commander… I am sick [from a stroke] and cannot move about much or I woulda gone and meet him already."
According to her, "We want him to come forward and say what exactly happened that night. If you know you didn't do something why you didn't go to the court?" Iris said the man who started working with her husband six months before the murder would always bully him and demand his food and money.
She recalled that just two weeks before his demise her husband came home from work with his eyes swollen but did not say anything.
Her daughter who lives with her noticed the swelling and when she questioned him he related that the man had punched him.
She then "picked up the phone and called him to ask why he did it and he said he was coming over." She was concerned about her father's well-being, especially since he had undergone cataract surgery two weeks earlier. The man visited shortly after the call and apologized. "He promised that he won't do that again."
Before that his daughter said, she had cooked her father's favourite curried 'conga' fish but "the man eat out all. When he come home he ask me if I have more because he didn't get to eat any…"
She related that when she got the news of his death and visited the scene her father's body was "face-down with blood pouring from the back of his neck. His food bag was on his back and he had on his long boots and wristwatch."
The police and the owner of the fowl farm along with a large crowd had already gathered by the time she got there.
She had cooked "mutton curry and dhal puri" that day and packed it for Panchoo but she is not sure if he ate any of it. She said they have not received his bag or his other personal belongings as yet.
Around the Web