Kitty resident Mala Persaud is now using tubes to assist with her breathing after three failed surgeries to clear the blockage to her nasal cavity which was caused when she was doused with acid outside her home four months ago.
Persaud is now looking at options overseas to correct the damage to her face while pointing out that she is frustrated at the police's foot dragging on the case. For her there is no justice in sight even though many know she was attacked because she spoke out about the noise that was constantly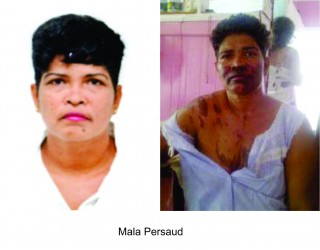 emanating from a liquor restaurant located close to her Station Street home.
"It really punishing me. I can't go nowhere without using a taxi. Why they had to damage me? Look how they damaged me," she told Stabroek News.
As of now Persaud is struggling to breathe and her nose has been taped up by doctors so that the tubes which were inserted can stay in place.
She said that prior to her first surgery on August 15 she was given an injection to soften the skin in the burnt area so that the surgery could be performed. The acid had hardened her skin in that area.
Persaud said she was forced to go to a private institution to get relief after she wasn't getting any satisfaction at the Georgetown Hospital.
She explained that her first surgery was done at the private city hospital to clear the blockage in her nose. She said that about eight days after the surgery the tubes were removed but the problem of her being unable to breathe properly continued and as such a second surgery was done on August 29. However Persaud's troubles did not end there as another surgery was performed on September 30.
Persaud explained that the breathing got worse, noting that she had to breathe and sneeze through her mouth. She told Stabroek News that a tube was placed into her nose which was then "plastered up".
According to Persaud the surgeries done so far have amounted to hundreds of thousands of dollars. She said that additionally she has to get injections and medication including pain killers and antibiotics, which adds to the already high medical bill.
She said that to date she is unable to cook or do housework because she is in so much discomfort and pain.
She said that if she bends down she feels as through liquid is running out of her head. Her face at the moment is badly swollen and she has to soften her food before she eats and use a plastic spoon.
"I can't even wash my face properly. I gotta take a cloth and wipe around. I am really suffering," she stressed, adding "I did nothing but I am suffering."
Persaud said the acid has damaged her lips and left her mouth twisted.
Asked about the police investigation, Persaud said she had visited the Kitty Police Station about two months after the incident and ranks told her that she is the person who has to identify the person who threw the acid. "How do they expect me to do that? I didn't have time to look at nobody," she said adding that the police failed to return to the scene to conduct additional investigations. She is convinced that had they returned someone might have been able to give them a tip off.
Shortly after the incident Persaud had held firm that the attack was sparked by her constant complaints about the noise coming from a bar near her home and the behaviour of the patrons who congregate there.
She said she complained several times to the police, the Ministry of Home Affairs, Office of the President, Office of the Prime Minister and the Police Complaints Autho-rity (PCA) but nothing was ever done. Patrons were repeatedly caught urinating in front of the Persaud's home, would often park their vehicles there and someone had thrown an object at the sliding door on her veranda and shattered the glass.
Persaud had said too that the police's sloth in the investigation was due to the fact that the woman she suspects is involved in a relationship with a retired senior police officer and policemen are among the patrons who frequent the bar.
She told Stabroek News on Saturday that the noise from the bar continues and many nights she has had cause to call the Kitty Police Station. She recalled having to call three times one night and ranks came and found a car parked outside her home with music blasting. She alleged that on September 7, a woman pelted her son with a glass bottle after he went outside to see why two patrons were fighting. She said the matter went to court and is scheduled to be called again shortly. However she said she believes that the woman is planning to leave the country around that time and as such would not be present in court for the case.
A once vocal Persaud has now been reduced to being fearful. She had previously said that she will continue to fight for what she believes is right.
Other residents during a community outreach had complained about the amount of bars that are located on Station Street and how much of a nuisance they were to the residents.
Persaud told this newspaper that she and her relatives are afraid to go outside when the noise becomes too much. She said, "I am afraid of victimization," adding that she does not know what to say and do anymore. She is frustrated while noting that she is being made to suffer "in my old age". Persaud is 54 years old.
Reports are that on June 1, Persaud was taking the family's car out of the yard when a man with an umbrella and a tea cup in his hand arrived and called for cigarettes. This was sometime between 7.45 am and 8 am.
The woman responded that she did not sell cigarettes loose. The man then said "watch this thing" before throwing the contents of the cup at her. The liquid burnt her face, shoulder, back, leg and chest.
The man then ran towards Vlissengen Road where the yellow taxi he had arrived in was waiting. Persaud had told this newspaper that the attacker strongly resembled a man she had seen the previous night in the vicinity of the bar.
Around the Web