Relatives and officials of the Georgetown Hospital have confirmed that Romario Gouveia has died.
Gouveia, 19, was shot by the police on Saturday night along with cousins, 21-one-year-old Jermaine Canterbury and 19-year-old-Mark Joseph in the vicinity of the K&VC Hotel.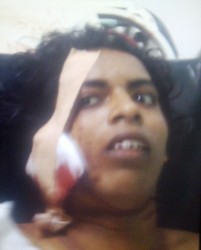 Reports are that he died around 10.30 am today in the Male Surgical Ward.
Upset relatives told Stabroek News that they are suspicious about the death as the teen was left "talking good, good yesterday".
He had been a patient of the High Dependency Unit before being moved to the ward.
Canterbury was pronounced dead at the hospital while Joseph died while receiving treatment. All three men were taken to the hospital at around 20:45 on Saturday by police.
The Guyana Police Force in a release yesterday said that some of their ranks, acting on information that an occupant of the hotel was the target of an impending robbery, staked out the hotel. The release said Gouveia, Canterbury and Joseph were armed and that they had fired on the police. Relatives of the men have denied this.
Around the Web