Police are still on the hunt for the third suspect in the October 3 attempted murder of Industry resident Linda Phillips, even as the two women involved were charged.
Last week, Deandra Grenville, 22, and Grace Ramrekha, 53, of Lot 25 Princes Street, Wortman-ville were arraigned on attempted murder charges when they appeared at the Sparendaam Magistrate Court before Magistrate Alex Moore. Grenville and Ramrekha were each granted $175,000 bail. The women will make their next court appearance on November 15.
Grenville had told police after she was captured that she was promised the sum of $130,000 by Ramrekha if she killed her ex-lover's current girlfriend, Phillips.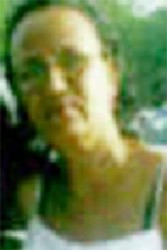 In a telephone interview yesterday, Phillips said that although she feels some relief that the women were charged, she wants them jailed. Phillips who was discharged from the Georgetown Public Hospital last Friday, also said that an officer visited her today for a statement.
Phillips had alleged that Grenville pretended to be carrying out a medical outreach to gain entry into her home along with a male accomplice. Phillips said the young woman held her down while her accomplice inflicted the stab wounds.
Around the Web