Knowing how to use a fire extinguisher to effectively control a small fire in case of emergency may be the difference between saving lives and property or losing them. As part of 2013 Fire Prevention Week observances, firefighters attach-ed to the New Amsterdam Fire Department conducted a fire safety exercise at the New Amsterdam Market Square last week, where passersby were given instructions on the proper use of a fire extinguisher.
Through the use of the acronym 'PASS,' persons learnt the basics involved in using the fire extinguisher.  The 'P' represents pulling the pin to allow the discharge of the extinguisher; 'A' is a reminder to aim at the base of the fire and not at the flames; 'S' is an indication that the user needs to squeeze the top handle or lever to release the contents of the extinguisher and then 'S' to sweep from side to side.
"We decided to do a live demonstration to show how effective a fire extinguisher is so that the public can purchase a fire extinguisher and extinguish a fire if the need be," said Station Officer Kalamodeen Edo, 2nd in command of 'B' Division.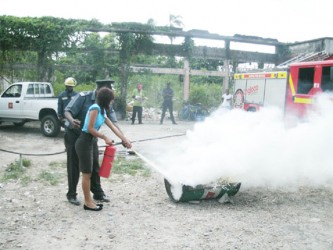 He revealed that a mixture of water, gasoline, oil and diesel were used to ignite the fires during the demonstration. "We want to ensure that parents, especially mothers know how to use a fire extinguisher," Edo stated, remarking that "Many times because people are afraid, they normally run out of a burning building instead of attempting to put out the fire."
However, he said because "all fires start small," the fire department believes if a fire is detected early and persons have access to and know how to use a fire extinguisher, they can effectively control the fire in the meantime while the fire engine arrives.
A fire extinguisher is a portable device used to put out fires of limited size. Such fires are grouped into four classes, according to the type of material that is burning. Class A fires include those in which ordinary combustibles such as wood, cloth and paper are burning. Class B fires are those in which flammable liquids, oils and grease are burning. Class C fires are those involving live electrical equipment. Class D fires combustible metals such as magnesium, potassium and sodium. Each class of fire requires its own type of fire extinguisher.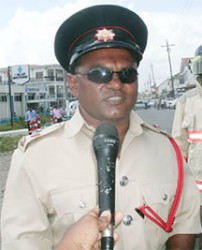 However, for the purposes of the demonstration, members of the public were shown how to use two types of extinguishers – the CO2 carbon dioxide and the dry chemical extinguishers. According to the station officer, "both are general purpose and can be used on all fires."
To execute the fire safety exercise the fire department partnered with AINLIM New Amsterdam branch which provided the fire extinguishers for the demonstration.
Around the Web