Romario Gouveia, the lone survivor of three men who allegedly engaged in a "shootout" with police on Saturday night, succumbed in hospital yesterday and family members are demanding an independent autopsy as they suspect foul play in his sudden death.
Gouveia, 19, of James Street, Albouystown died around 10:30 am in the Male Surgical Ward of the Georgetown Public Hospital (GPH), where he had been transferred in stable condition after being initially admitted to the High Dependency Unit. He had sustained a single gunshot wound in the alleged confrontation in the vicinity of K&VC Hotel on South Road, where cousins Mark Anthony Joseph, 19, and Jermaine Canterbury, 21, both of Lot 19 Hogg Street, Albouys-town were fatally shot by lawmen.
Police, who have officially stated that ranks on a stakeout came under fire, have been accused of firing at the men after they were subdued. Crime Chief Seelall Persaud yesterday announced that even as the Criminal Investigations Depart-ments (CID) continues its investigation, the Office of Professional Responsibi-lity (OPR) is also investigating the circumstances under which the men died.
Gouveia was struck by a bullet behind his right ear and it exited through the right cheek but his condition had stabilised and he was alert during interactions with members of his family and friends. As a result, news of his death yesterday came as a shock.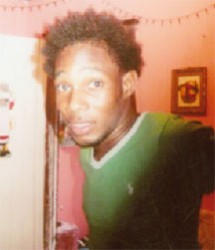 Donald Gouveia told Stabroek News that he received a telephone call around 11 am and was informed that his son had died. He said a nurse on duty later told him that his son was panting for breath and hospital personnel were trying with him but he eventually died.
He said doctors never gave him any warning about his son's condition. Asked if he was shocked, the man added, "Yes. I ain't must, because I spoke to him and he was strong yesterday [Sunday] afternoon."
Although he said that he was allowed to see his son's body and did not notice anything suspicious, Donald Gouveia said his family wants an independent post-mortem examination.
The teen's mourning relatives called for justice yesterday while saying that they could not understand how he could be in good health one day and dead the next. Amid angry outbursts, a relative was heard shouting that the teen was killed because he was the lone survivor who could have pointed out the ranks involved in the shooting. His family has already made contact with a lawyer, who had been scheduled to meet Gouveia yesterday.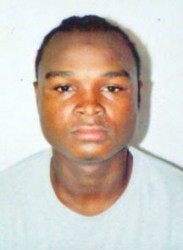 "We lef he talking good, good yesterday [Sunday]. We need justice fuh wha happen here," said an upset relative who was with others waiting for Gouveia's body to be transferred to the morgue.
Police said they had staked out the hotel based on information that an occupant was the target of an impending robbery.
According to the police, at around 8.30 pm, three men exited a white car bearing registration number PPP 8539, which had stopped on Alexander Street, a few feet away from the hotel. Police say they challenged the three men as they were making their way to K&VC Hotel and the men opened fire, forcing them to return fire.
Responding to this, the elder Gouveia yesterday said, "That is fabrication. Total fabrication."
And although his son was reported as saying in a section of the media that he did not know the other two men who were killed, his father told this newspaper that he knew them since they all lived in the same area. He noted that one of his sons and Joseph used to box together.
Meanwhile, post-mortem examinations performed on the bodies of Joseph and Canterbury yesterday revealed that they died as a result of multiple gunshot wounds. No information was given about how many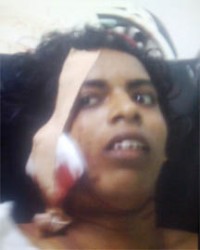 times or in what part of their bodies either of the men was shot. Their relatives have since said that they are not satisfied with this but they are already frustrated by the ordeal. They claimed that police refused to allow them to see the bodies properly. They said that Canterbury was covered right up to his neck, while half of Joseph's body was covered.
Based on what Stabroek News had been told, Canterbury was pronounced dead at the hospital. This newspaper was told that his body had numerous bullet holes from his feet right up. Joseph died shortly after arriving at the facility. Their families are hoping to bury the two men on Friday.
'No such evidence'
According to eyewitness accounts, the police ordered the men to lie on the roadway in front of the hotel and then opened fire on them. Witnesses had also reported hearing shots being fired in the vicinity of Thomas Street as police raced to the GPH with the wounded men, fuelling suspicion that the men might have been shot during transport.
Asked about this yesterday, Persaud said, "The police have no such evidence or information. We are asking persons with such information to come forward."
He was also asked about whether police had managed to locate the car reportedly used by the men but he said he had no update on that as he was currently at a meeting.
The police had also released a photograph of two guns they said were retrieved from the site of the confrontation and a wig. Police also issued information showing that all three men had previously been charged with robbery.
Retired police commissioner Winston Felix, in an invited comment to Stabroek News, said that investigators ought to first seek to trace the registered owner of the vehicle, who ought to say in whose possession the vehicle was at the time of the alleged shooting. "That ought to have been part of the initial police work," he said.
Felix said after he heard of the shooting, he was waiting to hear the reasons given, since he initially did not believe that men suspected of planning a robbery and armed with two six-chamber revolvers attacked heavily-armed police. "I thought that would not have been the reason and I was giving the force the benefit of the doubt. Now I am forced to think differently. And that is why I am urging my former colleagues that there are tried and tested methods of bringing armed and dangerous criminals to justice and those are the practices they should encourage their juniors to follow," he said.
Felix, who is an MP and holds the Shadow Home Affairs Minister portfolio for main opposition APNU, noted that there are different situations which ought to be treated appropriately. "Experienced and seasoned policemen faced with a situation where there is an incomplete offence will react differently so as to catch the criminals in the act and arrest them. It was done several times before," he said, while adding that it is only within recent times that this practice has been significantly altered.
He added that there are "rules for shooting in a criminal setting which all policemen are taught in training; the rules regarding when you may fire. I don't see the correct practice being observed in any case where persons are suspected of planning to commit a crime. If they were committing a crime there are procedures for containment of the situation so as to prevent an escalation."
Asked about whether an independent body is needed to investigate Saturday's killings, he explained that it has always been felt that police investigating their own is not desired for public confidence. But he added, "I know personally that where investigations are conducted by the police, they were ruthlessly and scrupulously conducted without violating rights of those involved. I cannot speak to what is happening now and whether that quality of police investigators exists."
He added that while in the circumstances the suggestion for an enquiry by an independent body may be appealing, "there are certain investigative skills and techniques which ought to be available to such a group."
Asked about the plea for witnesses to come forward, Felix said that from his experience whenever members of the public suspect police misconduct in any shooting, they are reluctant to come forward. Generally, he said, it is only the relatives and friends who are available that tend to respond. Among the reasons for this, he noted, are fear of retaliation and a fear for safety.
Around the Web