The Home Affairs Ministry yesterday signed a contract with the Director of The Emergence Group (TEG) from Washington for the provision of consultancy services for the setting up of a SWAT Unit for the Guyana Police Force (GPF), according to the Government Information Agency.
Speaking at the signing ceremony at his Brickdam Office, Minister of Home Affairs, Clement Rohee said that the initiative was long in the making.
GINA reported him as saying that some critics seem to think that his removal from the Office which he currently holds is the only solution to the crime situation. However, he said that as long as he is tasked with the responsibility of Home Affairs Ministry by the President, "no effort will be spared to ensure that criminal elements are brought to justice."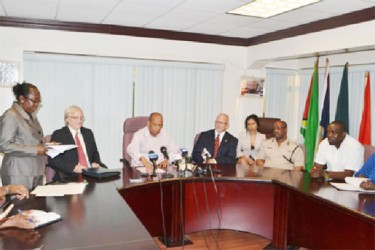 TEG's Director, Dennis Hays noted that his company worked with the GPF a few years ago, and explained that this particular area is one in which his company has a great deal of expertise.  Hays was a senior US diplomat here in the late 1980's. He later served as US Ambassador to Suriname.
He said that TEG designs and implements world class law enforcement and justice sector reform programmes around the world. GINA reported him as saying that it has successfully implemented projects in the Middle East, Central Asia, and South America.
Hays added that the company has put together a highly qualified team that will be coming to Guyana shortly to make an assessment of the existing capabilities and equipment in order to develop a Guyana-specific programme.
Hays said this would involve intense training and mentoring to develop this component of the GPF.
"The end goal is to have capability that the Com-missioner can call upon when needed to deal with a difficult situation. He will know that he has officers with the training, temperament, and expertise to apply critical judgment in a difficult situation," he said.
Commissioner of Police, Leroy Brumell said that the Force welcomes the addition of this unit which should be in place by next August.
Around the Web