A Corentyne man was shot to the right side of his chest on Tuesday night by a licensed firearm holder.
Dunston Simpson, 34, of Number 53 Village, Corentyne was shot after he was involved in an altercation with a miner from the city. The incident occurred at Main Street, New Amsterdam.
The man from the city hails from Werk-en-Rust.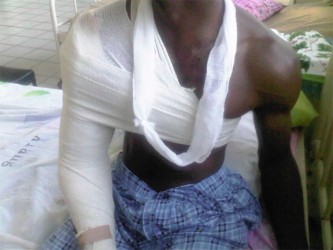 From his hospital bed, Simpson told Stabroek News that Tuesday was his birthday. In celebrating, he decided to buy "two Vita Malts and a Guinness" from a bar on Main Street.  He said after purchasing the products he went over to another entertainment spot and stood in front of it. However, he was approached by the security guard and told that he was not permitted to drink on the premises. He explained that after he was told this he had an argument with the guard.
Simpson further recalled that whilst he and the guard were bickering, two men intervened in the conversation. Simpson said that that when an argument erupted, one of the men reached into the car and pulled out a small axe and hit him on his head. Simpson said that after he was hit in his head, he ran for the bar noting that he saw that one of the two men had pulled a gun from the car.  Simpson said he heard two gunshots and whilst in the bar he sustained a shot to his chest.
The police have however been given a different version of events by the two men who Simpson said attacked him.
Simpson was rushed to the New Amsterdam Hospital and admitted as a patient.
One of the two men who Simpson said attacked him is currently in police custody.
Simpson is expected to undergo minor surgery to remove the bullet from his chest.
Police investigations are continuing.
Around the Web