A Yakusari resident was found dead on the Jappo Public Road, Corentyne  on Tuesday evening and it is believed that he was the victim of a hit-and-run accident.
The man, Arvin Dilall, was discovered around 7.30 pm by residents who were entering Black Bush Polder (BBP) via the Jappo Public Road.
It is believed that Dilall, 35 years, of Lot 120 Yakusari, North Black Bush Polder died in the accident while heading home.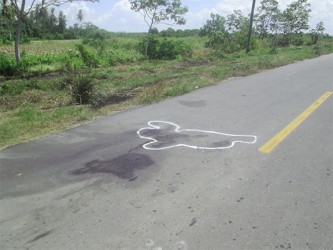 Police are conducting investigations and are currently looking for the motor vehicle that might have been involved in the accident.
Dilall was pronounced dead on arrival at the Skeldon Public Hospital.
On a visit to the scene yesterday,  Stabroek News observed that the man was found approximately 30 feet away from where he was struck down.  A pool of blood was still on the road.
SN understands that someone travelling on the road noticed the body lying motionless. He subsequently stopped and investigated. After recognizing  Dilall he informed the No.51 Police Station along with the dead man's relatives.
A cousin, Mukesh Lilboy, said there were injuries on Dilall's head, abdomen and other parts of his body. The body also had several bruises.  A rum bottle was found close to the scene. The man said that the family is still puzzled as to what happened. The area in which the incident occurred is usually dark.
Lilboy told this newspaper that Dilall returned to the polder to live only a month ago. He said that Dilall used to live abroad but he recently returned to Guyana.  He further explained that the man would normally visit friends at the Skeldon Hospital and would then return home. The cousin added that Dilall was walking near the BBP entrance, after he was not getting any transportation to get into the polder. Stabroek News learnt that after 5 pm it is extremely difficult to get transportation into the polder.
Dilall is survived by his parents, sister and other relatives and friends.
Around the Web