Both the state and defence yesterday made their final arguments to the jury in the trial of Ramesh Muniram, who is accused of murdering his wife.
Justice Navindra Singh, who has been presiding over the trial in the High Court, will sum up the evidence in the case today, after which the matter will be handed over to the jury for deliberation and a verdict.
Muniram, called 'Bobby,' is accused of murdering his wife Sunita August on January 14, 2010. In his caution statement, which was admitted into evidence on Friday, he told police that he gave August a Pepsi bottle with a poisonous substance to drink and after she started fighting up, she fell into the canal. He said that he then jumped in and started choking her and after he saw that she had died he hid the body under stuff in the canal. Muniram then said that he left to go to the home of his sister, where he told her what he had done. He said that he then went to the home of his mother, who he also told what he did.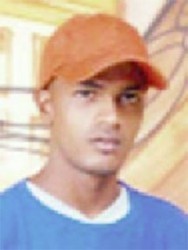 But when called upon to lead his defence on Monday, Muniram said that he was beaten into signing a statement and that he did not know how to read and write or swim Muniram told the court that he and his wife met to make a decision about renting a house. "We went at the koker to make a decision about renting a house because my father don't want me there and she family don't want me there either. She said it was ok," he said.
He said that they had sex and then August told him she was going to tidy herself in the Nismes koker. Muniram said that the koker was deep and he couldn't help her so he went to break a piece of stick and when he returned she was nowhere to be found.
He stated that he left to go home and there his mother told him that the police were looking for him. Afraid and confused, he said he went into the backyard in some bushes and the following day after he was feeling hungry and thirsty he emerged and saw his brother-in-law. Muniram said that he told him that he was hungry and the
man instructed him to wait. As he was waiting, he saw some of his family members, who told him that they were taking him to the police station.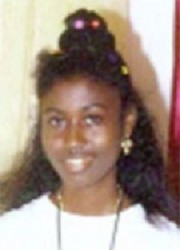 He told the court that he was then taken to the La Grange Police Station, where he was handed over to a policeman named "Fraser," who took him into his office and told him that they heard that he murdered Sunita August. He replied by saying that he didn't know anything about that. Muniram said that the officer then told him that he knows the story and he then took out a paper that had some writing on it and asked him to write his name and address. "He asked me to sign the paper but I refused and that is when he took out a baton and started beating me in my belly. I say, 'Don't kill me, I will do it,'" the man said. He said that he was then taken to the lockups and later admitted to the Georgetown Public Hospital after he was vomiting blood.
State Counsel Judith Gildharie-Mursalin is presenting the state's case, while Senior Counsel Bernard De Santos is representing Muniram.
Seven witnesses testified for the state, including state pathologist Dr. Nehaul Singh, who conducted the post-mortem and said that August died from asphyxiation due to drowning with compression injuries to her neck. Singh also said that there were finger marks to her throat consistent with manual strangulation.
Khemwattie Raghobir, the mother of the accused, also testified that she was at home when the accused returned home and told her that he and his wife had just had sex and she went to wash herself off and fell into the water. He also told her that he couldn't swim and he left and went away.
Medex Sharin Cumberbatch, of the Georgetown Prisons, also testified that Muniram was admitted to the prison on January 15, 2010 and he was referred to the Georgetown Public Hospital on March 21st, 2010 after he began complaining of chest pains.
Corporal Cranston Fraser had also testified that he took the caution statement from the accused.
The defence called one witness, Magistrate Ann McLennan, who was questioned by defence counsel De Santos about the deposition Fraser gave at the magistrate's court in 2011.
Around the Web