R&B star R. Kelly yesterday touched down and put Guyanese fans on notice to expect the unexpected at his concert tonight.
"You can only expect the unexpected from me, I go all out for my crowd," Kelly said at a press conference at the Cheddi Jagan International Air-port, Timehri yesterday, shortly after his arrival.
"When I set out to do a show, I like to choreograph my show but I also like to choreograph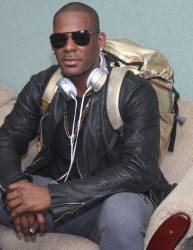 it to look like it is not choreographed," the singer said. "I am a spontaneous person. I never look at it as work; I look at it as me getting on stage and having a lot of fun, so I create my show so that it comes off as fun," he added.
Kelly will be headlining the 'Redemption' concert at the Guyana National Stadium tonight, which will also feature Reggae group Morgan Heritage, soca performers Kes and the Band and crossover band Karma from Trinidad.
Known for his hit songs, which include 'I believe I can fly,' 'I wish,' and 'When a woman's fed up,' Kelly said that he has always been a "home-body" and he is always surprised when he is called to do a show in a different country. "I have always been a home-body, even when it came to my music. Whenever I get a call to go to a different country, I am like, 'Wow. They know my music over there?'"
Asked about where he gets his inspiration, Kelly said that growing up in a home filled with women, they were his biggest inspiration. "I grew up in a house full of women, and seeing the things they go through, as my gift of singing started to develop, I started incorporating women's situation in my music," he explained.
Kelly added that he would like the Guyanese public to know that he is human, a man, and that he loves to have fun.
Odinga Lumumba, head of McNeal Enterprise, which is promoting the concert alongside Hits and Jams Entertainment, apologised to the Guyanese public for its previous cancellation. Lumumba said he knew all along that Kelly was going to perform and noted that the show has taken a lot of time and effort,.
Acting Tourism Minister Irfaan Ali touted the show as one of the biggest hits for tourism this year, while adding that many overseas-based Guyanese will be returning just to be in attendance.
General admission tickets cost $5,000, while VIP tickets will cost $30,000 and are available at Giftland Office Max, Gizmos and Gadgets and White Castle Fish Shop, Matt's Record Bar, Ashmin's, Dave's Sports bar in Grove, Little Rock in Berbice and Digicel Cell Smart in Linden.
Around the Web