In an effort to make agriculture an attractive job opportunity, the Agricul-ture Ministry of Antigua and Barbuda is promoting the establishment of various shadehouses across the country.
Oniecia Anthony, a ministry representative, told Stabroek News that the now closed Caribbean Week of Agriculture (CWA), was a way for regional bodies to share their experiences with shadehouse technology.
She said that youth have made drastic step back from traditional agriculture and as a result food security of the island nation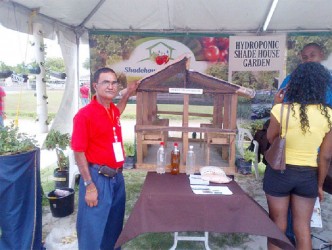 was a top priority. She said the government has taken on an active role to establish shadehouses.  She noted that during the CWA the various countries could share their experiences on the success of shadehouses and try to alleviate some of the issues that can be found across the region.
She told Stabroek News that like Guyana, Antigua initiated the setting up of backyard gardens, "we don't want people to compete with the large farmers, but we need to think about food security and sustainability. We want people to plant seasoning and on a small scale."
Anthony noted that "protected agriculture" was the way many Caribbean countries had to move and it was not just because the work was made easier because of protection from the sun. "We are now realising the benefits across the region. Normal agriculture gives crops for three to four months in the field but if you can have those same crops under shadehouses we [have] seen that they can stay up to a year even 14 months in some instances," she explained.
She said land could very much become an issue for the island nation and recently the government had distributed 250 acres for farmers to put up large-scale shadehouses. "We are trying to get youths involved… We want to show the youth that agriculture is a business and they can make money in this sector," Anthony stated.
Guyana is no stranger to "protected agriculture" techniques. Shadehouse Vegetables project, a Partners of the Americas initiative funded by the Inter-American Develop-ment Bank and the Japanese Trust Fund, is in its second phase of development. Shadehouse Vegetables relies heavily on the use of hydroponics. Production technician Mahadeo Mansara spoke briefly with Stabroek News during GuyExpo 2013 and stated that phase two of the project will add six additional shadehouses throughout Guyana bringing the total to 58.
He said that during the second phase more householders will also be trained how to grow vegetables such as, lettuce, tomatoes, pak choi and so forth, on the small scale. "When they master that, we will introduce them to the shadehouse focusing on sustainable community development by using hydroponic techniques to grow organic vegetables," Mansara stated.
Last year, March the Canadian High Commis-sion financed a $1.7 million greenhouse in Victoria on the East Coast aimed at job creation. Former Cana-dian High Commission David Devine had stated that small-scale community operations addressed food security at the most immediate level.
Around the Web