Ramesh Muniram was yesterday sentenced to 76 years in prison, after he was found guilty of murdering his wife.
Justice Navindra Singh handed down the sentence at the High Court after the 12-member jury returned a unanimous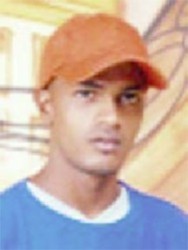 verdict after five hours of deliberation. Muniram had pleaded not guilty to killing his wife, Sunita August, on January 14, 2010 in the koker at Nismes, West Bank Demerara (WBD).
In handing down sentence, Justice Singh considered that the accused's actions were premeditated as he had taken his wife to the koker and given her a bottle of poison to drink, and when that plan failed he jumped in the koker and killed her.
Singh started with the maximum of 60 years and added 5 years for the brutality of the crime, 6 years because domestic violence was involved and 5 years because it was premeditated.
When asked by the judge if he had anything to say, Muniram replied "no."
During the course of the trial, Muniram's caution statement, in which he admitted to killing August, was submitted as evidence. Muniram had said that he gave August a Pepsi bottle with a poisonous substance to drink and after she started fighting up, she fell into the canal. He said he then jumped in and choked her. After he saw that she had died he hid the body under some stuff in the canal. Muniram said he then went to the home of his sister where he proceeded to tell her what he had done. He said he then went to the home of his mother where he told her what he did.
In his unsworn statement, however, Muniram had said he was beaten into signing the statement, and that he did not know to read and write, nor did he know to swim.
Seven witnesses testified for the state, including Pathologist Dr Nehaul Singh who conducted the post-mortem examination which revealed that August died of asphyxiation due to drowning with compression injuries to her neck. Singh said there were finger marks on her throat consistent with manual strangulation.
Muniram was represented by Senior Counsel Bernard DeSantos, who did not make a mitigating plea, while the state's case was presented by Senior State Counsel Judith Mursalin-Gildharie.
August, who was 24 years old when she died, had lived at Vauxhall, Canal Number One Polder, WBD. She was a mother of three, the eldest being eight.
According to reports, on the day she died, the woman had left her home to meet Muniram, from whom she had separated after a dispute, to collect money for two of her children who he had fathered.
Relatives had said that Muniram had repeatedly threatened to kill August, her children and an aunt and on several occasions police had to intervene.
Around the Web