As police continue their hunt for a suspect in the brutal murders of two policemen in Region Eight, their families say that with one year already gone they have no confidence that the case will be solved.
When the bullet-riddled and bloody bodies of Constables Marlon Letlow, 27, and Leadon Aaron, 25,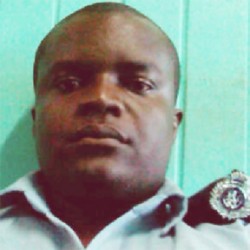 were found in Paramakatoi on October 17, 2012, relatives and many others thought that the police would have done everything possible to ensure that justice would be swift. However, one year later their families are still waiting.
Contacted recently, Crime Chief Seelall Persaud told Stabroek News that investigators are still looking for a Brazilian miner, who is suspected to have been behind the murders. He noted that in the meantime the investigation is still open.
Last December, police were forced to release a Brazilian national who was identified as a suspect owing to insufficient evidence. On December 9 last, police had said in a press release that a suspect in the murder was arrested when police conducted a search at a mining camp at Karisparu, North Pakaraimas, where explosives were found. His arrest came a day after Police Commissioner Leroy Brumell had vowed that investigators were working to bring the killers to justice. He had also vowed that the matter would not be swept under the carpet. One person was later charged in relation to the explosives while the suspect in the murders was released on bail.
Persaud had previously explained that investigators had been able to confirm that the policemen had taken money from an excavator operator. The ranks, according to him, had demanded $300,000 from a miner who owned an excavator. This confirmation apparently came from the excavator owner's son, who was among several persons held for questioning. Police are still trying to find the excavator owner or account for the money that was handed over to the two ranks. Based on what this newspaper was told, this is the person that the police are seeking.
Persaud had said the two ranks went to the miner and told him that his machinery was breaking up the roadway and subsequently demanded money from him. The roadway, he said, is located somewhere in the Paramakatoi area where the ranks were later found dead.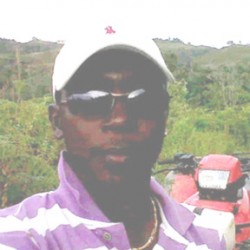 Stabroek News was told that the two ranks had left the Kato Police Station on an ATV for patrol duties on October 14 and never returned. Two days later, the police received information that an upturned ATV with its headlamps on was found at Paramakatoi. It had apparently been spotted by a Brazilian man who was passing through the area. The man also spotted blood on the vehicle but saw no one.
On the following day, the bloodied bodies of the two men were found. Letlow was found lying face down with gunshot wounds to his back, while Aaron was found tied to a still smoking tree trunk, a short distance away.
Aaron had been stationed in the interior area for just over two years, while Letlow had been there for six weeks.
Following the discoveries, police had said that the service Carbine that had been uplifted by Letlow was recovered along with eight rounds and eight spent shells, while the .38 service revolver that had been uplifted by Aaron was missing. This suggested that at least one of the ranks had engaged their attackers. One spent 12-gauge shotgun cartridge had also been found at the scene.
The police had said too that Letlow was reinstated in the force on August 6, 2012, after he had been interdicted from duty because of a charge of receiving stolen property following the robbery and murder of two gold miners at Bartica on September 5, 2010. The matter was dismissed by the court on May 15 last.
Relatives of both men said they heard nothing more from the police force on the investigation. They said no one has called or visited them to say anything and they have not made contact with any member of the force for an update.
Leadon's sister Shellon Aaron told Stabroek News that she is not surprised that no one has made contact with her family since this is how "the system goes". She said in the first few days after any tragedy the police are all there holding and comforting you but once that period passes that is the end of the communication.
The woman said that depending on the police for justice and closure is a waste of time. Her family, she said, is leaving everything in the hands of God.
Shellon added that the police force should have been paying more interest to the investigation since both men were killed while on the job. She said that family members are doing well and are trying to be strong for each other.
Relatives of Aaron had held the view that attempts were being made at a cover up in the case.
Meanwhile, Letlow's aunt Samantha Allen said that for her family life had to go on. She said that her nephew is already dead and there is nothing that can be done to bring him back. Allen said that after one year, they have heard nothing positive and they have no confidence that this will change.
Security experts are maintaining that there is much more to the murders than meets the eye, especially given the manner in which the men were killed.
Around the Web