In the light of the death of maternal patient Sadhna 'Christine' Dutchin from a rare pregnancy complication, the Georgetown Public Hospital Corporation (GPHC) says it is gearing medical staff to undergo training to detect symptoms early.
"Ms Dutchin died of a rare complication known as peripartum cardiomyopathy. …In response to Ms Dutchin's death,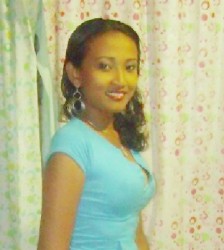 the doctors and nurses at GPHC will have additional training in this rare complication to help them be increasingly vigilant, in the hope that they may detect if a woman develops the disease earlier," a statement from the GPHC explained.
Dutchin died on September 28, three weeks after delivering a dead baby girl via C-section. She had been suffering from bronchial pneumonia, a blocked heart and an infected lung but had taken her own discharge from the hospital two weeks prior because she felt she was not being given adequate care. Her autopsy report lists the cause of her of death as peripartum cardiomyopathy.
"Scientists are not sure why the complication occurs but it results in the heart muscle becoming very weak, floppy and ineffective. The chambers of the heart dilate, becoming much larger than normal. Because the blood is not pumped effectively, it can pool in these chambers and form large clots that can then shoot off into the lungs, as pulmonary embolisms, causing chest complications and difficulty in breathing," GPHC stated, saying that it was these complications that led to Dutchin's death.
Her sister, Angela Khandai, told Stabroek News that no mention had been made of a heart condition prior to her sister's readmission to the hospital, almost two  weeks after she sought self-discharge owing to the unbearable treatment she was receiving from nurses.
Dutchin, who is survived by her husband and their six-year-old son, had been expected to give birth to her second child at the end of September.
Dutchin's mother Doreen told Stabroek News yesterday that while she was pleased to learn of the proposed training for medical personnel in peripartum cardiomyopathy she did not believe it was that disease her daughter died from. "That hospital tek too long with meh child… dem ain't do nothing …ah clean she out," her mother said.
The woman remained adamant that it was her daughter's placenta that was not completely removed that led to her organs failing, the yellowing of her lips and eventual demise. She said her daughter did not suffer from any illness before but pointed out that a doctor from a private hospital explained to them that during Christine's period of illness her heart was inflamed.
According to the GPHC release, peripartum cardiomyopathy develops in the later stages of pregnancy but usually occurs in the weeks and up to five months following birth. The hospital stressed that given the rarity of the disease there are no statistics for Guyana but that in the United States I in 4,000 women who give birth suffers from it.
"When it does occur, it is extremely difficult to treat.  Traditionally, as many as one third to one half of women required a heart transplant and today, even in hospitals with every available resource, one in four women die," the GPHC stated.
"Ms Dutchin was thoroughly reviewed by our doctors every day following her delivery and at no stage were there any signs or symptoms of cardiomyopathy.  It appears that, like most of the women who develop this complication, it developed in the weeks following her delivery, after she went home," GPHC's statement said.
According to the release, the Ministry of Health's Maternal Mortality Review Committee is also reviewing the case.
Around the Web