Republic Bank (Guyana) Limited yesterday opened a $185m branch at Lethem.
According to the Government Information Agency, Republic Bank's Managing Director, John Alves said that the decision to extend their services to the Region Nine (Upper Takutu/Upper Essequibo) community was guided by their strategic plan for expansion.
The branch will be opened for business from tomorrow with a staff complement of eight.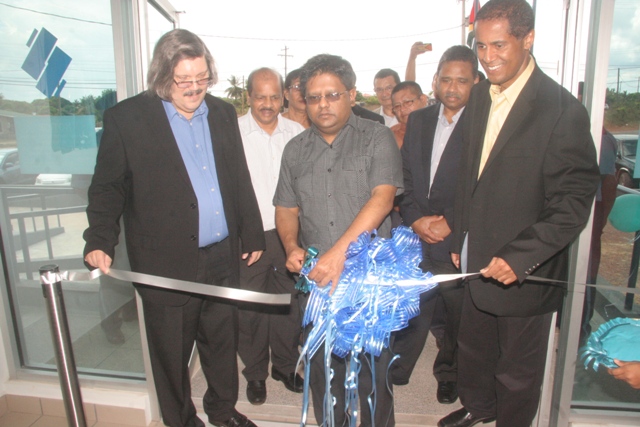 GINA reported that Chairman of the Bank's Board of Directors, Nigel Baptiste said that the opening of the Lethem Branch is a clear demonstration of the bank's continuing commitment as a partner in the economic and financial development of all corners of Guyana.
Lethem residents will benefit from a wide range of financial products and services including: deposit and checking accounts, electronic banking, various forms of lending, and foreign exchange and money transfer facilities, GINA said. It added that the new branch is a customer-friendly, spacious and modern environment, which will provide all the basic banking services including an Automated Teller Machine (ATM) facility.
"Our vision for expansion and accompanying strategies, are strongly aligned with the trends shaping the local, regional and global economies. Among local developments are increased opportunities for home ownership and expanding small and medium businesses…" Baptiste stated.
GINA said that Finance Minister Dr Ashni Singh expressed happiness at the opening of the branch as he joined residents of Lethem, Region Nine to officially welcome the Republic Bank branch at Manari Road.
"Today we see a financial services sector that has proven that it is well-managed with sound, stable and strong institutions, and it is no accident that at a time when the global and regional economy have been put to the most severe test in living memory, financial institutions operating in Guyana have withstood the regional and external developments, have remained strong and have been an outstanding example," the Finance Minister stated.
The minister said that Republic Bank is a regional leader in financial services across the Caribbean, and since its entry in Guyana, it has contributed in a very significant way to raising the standards in the country's financial services sector.
Around the Web