Former foreign service officer in the Ministry of Foreign Affairs Riley Abdelnour died on Friday in Florida after a period of illness following a brain tumour operation. He was 57 years old.
Former foreign minister Rashleigh Jackson remembers Abdelnour as a "loyal and dependable" person while he worked at the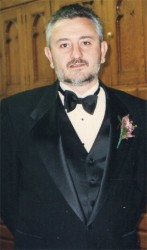 Foreign Ministry many years ago. He was an officer at the ministry and later moved to the New York Consulate where he worked for some time.
He recalled that he returned to Guyana when the PPP/C came into government and worked under the late minister of Tourism and Trade Michael Shree-Chan.
At one time he was associated with Cirkel Distributors at Camp and Lamaha streets.
"He was a go-getter," was how Jackson remembered him and said it was sad that such a young person had died.
Abdelnour has left to mourn his wife Sally, his mother and other relatives.
A memorial service is being held today at Fred Hunter's Funeral Home in Hollywood, Florida.
Around the Web