Berbice academic, attorney-at-law Naomi E Christie was on Friday admitted to the Guyana Bar in the Berbice Supreme Court before Justice Brassington Reynolds.
According to a press release, Christie's petition was presented by Minister of Legal Affairs and Attorney General Mohabir Anil Nandlall in a courtroom packed with relatives and other well-wishers. In his petition Nandlall said that the new lawyer was presented with her Legal Education Certificate on October 5 and was put on the Honours Roll.
Christie holds an impressive list of credentials, the attorney general said.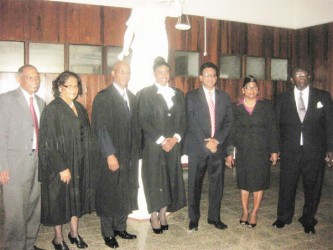 In Trinidad she was awarded the Justice Jessel Hannays Memorial Prize for best performance in Law of Remedies. Christie graduated with distinction and is the recipient of the Pro-chancellor's Award for Best Graduating Law Student at UG.
She also holds the Anne Blue Award for Best Performance in Part II of the law programme, among many other achievements including the top student for the Caribbean Advanced Proficiency Examination in Guyana which she completed in 2008 and an international Diploma in Business Studies from the University of Cambridge through the School of the Nations.
After accepting the petition, Justice Reynolds urged Christie to continue to be a student of law no matter how old and how much experience she has gained. "Today's achievement is [not] the end of the journey but rather the beginning…" he said. "Your career has now begun," he said. In her address, Christie vowed "to uphold the integrity of the legal profession and to adhere to its ethical standards.
She also thanked God for providing her with strength and guidance in all aspects of her life, her parents Rockcliff and Pearl Christie, the proprietors of Little Rock Television Station, the attorney general, solicitor Evelyn Sita Ramlall and all her supporters.
Around the Web