Jermaine Jervis who holds a wealth of experience in the country's legal system having worked at the High Court Registry, Court of Appeal and the Guyana Bar Association, was yesterday admitted to the bar. His petition was presented to Justice Rishi Persaud by his uncle attorney-at-law Lester Caesar. Jervis, 30, a Lindener by birth, attended the MacKenzie High School, St Rose's High, the University of Guyana and the Hugh Wooding Law School in Trinidad. In addition to his law degree he also holds a Diploma in Banking and Finance (Distinction) from the University of Guyana.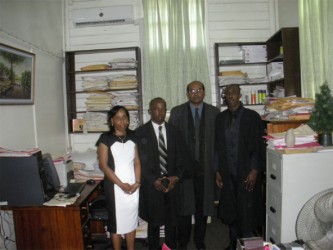 Justice Persaud in his remarks said that it was with a sense of pride that he accepts the petition as Jervis had been his clerk for a number of years. He told the new attorney and a courtroom packed with relatives, friends and well-wishers that Jervis always displayed pleasant and dignified attributes.
Pointing to falling standards, he urged Jervis not to contribute to it but rather to make an impact and to strive for good standards.
The judge also singled out Jervis' mother, as to him she deserves all of the credit for the role she played. He indicated to the new lawyer that his door is always open and urged him to be guided by Caesar.
Jervis thanked all who assisted in his journey. He said that he never wanted to be a lawyer but he did it because his mother wanted him to be one and she pushed him in that direction. He said that his road to success was not an easy one.
Around the Web