Ramesh 'Toney' Ramraj, 23, who faced a murder charge at the High Court in Berbice was on Monday sentenced to 20 years imprisonment – ten years after murdering his father at the age of 13.
The court heard that between January 20 and 21, 2012 at the No 57 Village backlands he murdered 39-year-old Rojin 'Pojorie' Basdeo of No 0 Village, Corentyne.
He pleaded guilty to the lesser count of manslaughter before Justice Dawn Gregory.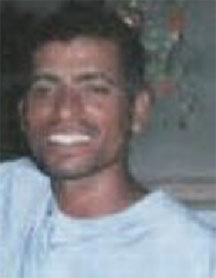 Ramraj, a cattle ranch labourer of No 65 Village had served three years for stabbing his father to death while he slept.
State Prosecutor, Renita Singh told the court that on January 20, 2012, the accused and Basdeo along with two other men, all labourers, were imbibing alcohol in a camp in the backdam.
Ramraj left and collected two cutlasses from his camp following a misunderstanding with Basdeo over a phone and dealt him two chops to the neck. He then ordered the two other workers to go to his camp before escaping.
Basdeo's relative had told this newspaper that he was relaxing in a hammock in another cattle ranch where he worked when Ramraj carried out the attack around 11:30 pm.
By the time they got to the scene the body was lying motionless in the hammock. They wrapped it in a sheet and took it to a sister's home where he used to live.
They then summoned the police – who had earlier said no rank was available to visit the scene – to accompany them to take the body to the Skeldon Hospital where his death was confirmed and then to the mortuary. Ramraj was subsequently arrested.
An autopsy performed by government patholo-gist Dr Vivekanand Bridgemohan, proved that Basdeo died as a result of shock and haemorrhage due to an incised wound to the neck.
The prosecutor asked the court to take into consideration that Ramraj had stabbed his father in his chest while he was sleeping.
Attorney-at-law Sasha Roberts told the court that her client, who shared a common law relationship, is the seventh of 14 siblings and started working at the age of eight.
She said he grew up with a violent father in a home that was "troubled by domestic violence." On the day in question, she said, he was defending himself. She asked the court to take into consideration that he did not waste the court's time.
In handing down the sentence, Justice Gregory said a number of factors were considered, such as the age of the accused, his previous conviction and that he failed to reform himself, even though he was given a chance to do so.
Around the Web