Several Region Nine Amerindian communities last weekend received cheques valued at least $1M via the Ministry of Youth, Culture and Sport's Community Ground Improvement initiative to upgrade their community grounds and or facilities.
Minister of Local Government and Regional Development Ganga Persaud said the funds were the fulfilment of an earlier commitment government made to the communities to repair and upgrade the recreational facilities before the end of the year. Persaud hoped that the upgraded facilities would be used to bring the communities closer and to engage the youth in productive pursuits, a report from the Government Information Agency (GINA) said.  The recipients were Shea, Karaudaranau, Tabatinga, Massara, St Ignatius, Shulinab, Kwatamang, Potarinau, Parishara and Sawariwau.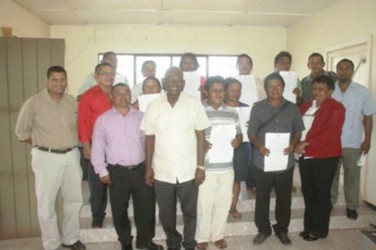 All the villages received $1M each, except for Shea, Kwatamang and Potarinau, which received $1.5M each. The exercise was witnessed by Permanent Secretary Collin Croal, Region Nine Chairman Wilson Lorentio and Regional Executive Officer Claire Singh.
Meanwhile, solar panels, each valued $261,000, were presented to the Sand Creek and Potarinau primary schools and to the Quarrie Health Centre. The panels were procured under the ministry's capital programme and form part of its continuing support to hinterland and riverine schools and health centres.
Around the Web