The Ministry of Agricul-ture plans to take the livestock sector to new heights through investment and research in livestock husbandry, the completion of the US$2.5M veterinary lab and the development of a small ruminant farm.
This was announced last week by Agriculture Minister Dr Leslie Ramsammy as the Guyana Livestock Development Auth-ority (GLDA) marked its third anniversary.
According to a statement from the ministry, in underscoring the importance of the sector, Ramsammy said Guyana taking a lead role in the development of small ruminants in the region depends upon the proper functioning of the livestock industry. As a result, he charged the GLDA to focus on meeting its mandate to enhance livestock husbandry and to continue to do research.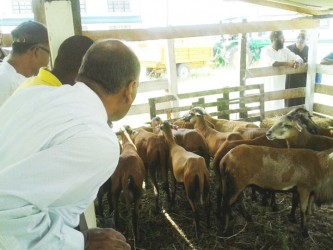 Dr Ramsammy, the ministry said, was pleased that the anniversary had come at a time when the country has high expectations about addressing some of the urgent needs of livestock farmers.
"When we reflect on our three years we have to feel a bit of pride even if we have not met everyone's expectation… we have been able to secure improve[d] breeds of animals of many livestock farmers have significantly benefited from," he said.
The agency has achieved this through enhanced pasturage and better research and development techniques.
In addition, the soon-to-be-completed US$2.5M Veterinary Diagnostic Laboratory at Mon Repos is expected to augment GLDA's services. The lab will better equip technicians to test and detect early instances of disease. Guyana has also completed testing for foot and mouth disease, a major achievement in the sector as previously specimens had to be collected and sent to Brazil for assessment.
"More than 90 percent of the developing countries in the world do not have that capacity. The fact that the GLDA can come as one of the very few in the developing world that has the capacity to do that test tells you, that there is something to celebrate…," the minister said.
Meanwhile, Guyana and Barbados are about to embark on a model small ruminant farm. The ministry is also preparing to submit the Animal Welfare and Food Safety Bills to Cabinet and later to the National Assembly for approval and subsequent passage.
"We are also looking to have a World Class Research Agriculture Sector developed, where countries will look to Guyana for expertise sharing…," Dr Ramsammy said.
Since its establishment, the semi-autonomous GLDA has been promoting greater efficiency within the livestock industry, the ministry said.
Around the Web