A 47-year-old East Coast Demerara woman was yesterday discovered dead by neighbours, hours after allegedly being severely beaten by her spouse and her family says that given the abuse she faced in the past it was a tragedy waiting to happen.
Dead is Maharani Parmanand of Lot 386 Area B Grassfield, Lusignan, a mother of three girls ages 10, 25 and 28 years old, and who did domestic jobs to sustain herself.
Her 40-year-old lover, only known as Reeaz, has since gone into hiding.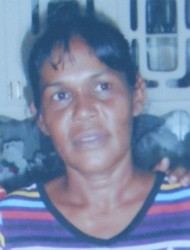 "This nah the first, second or hundred time he beat she, five years now dem deh and from day one he a beat she like eel…early this year he break all two she hand and foot, gat she bedridden for months …she take he back June and look me know this would happen," the eldest of the woman's three daughters Kavita Persaud told Stabroek News.
Persaud recalled the history of the beatings her mother suffered at the hands of Reeaz saying that it was only in March of this year that her mother was pulled from the house in an unconscious state with multiple broken bones and lacerations to her body.
She said that after spending months in hospital she moved her mother to her Good Hope home.  "I thought she would dead then. All two of her hands he bruk up, all two she foot all over her gat steel… her face you couldn't recognize and she swell all over," she said.
"Not one day he come see she and when it done she move in with me and my husband … I feel shame now because she promise not to go back to he and from when she start to feel good and me ain't home she used to thief the phone and call he and late June she move back in with he," she added.
She said that she was annoyed with her mother's decision but abided by it as she could not force her to leave the man. However, she said that she warned her mother that the beatings would not stop and was not surprised when she received a call yesterday telling her that her mother had met her demise allegedly at the hands of her partner.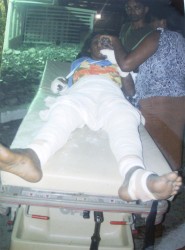 A friend of the dead woman told reporters that both Parmanand and her lover had an alcohol addiction problem and on Sunday night blows rained on the woman after a drinking binge. "She and he came at us and were drinking Sunday and when they came home, oh how he beat her that Monday she couldn't walk and she send call we to check her," the woman said.
On Tuesday, another call was made by Parmanand, this time she indicated that her condition had worsened and she felt she needed to see a doctor. She gave her friends numbers to call relatives but after several tries to numbers that were either not in service or turned off they stopped trying.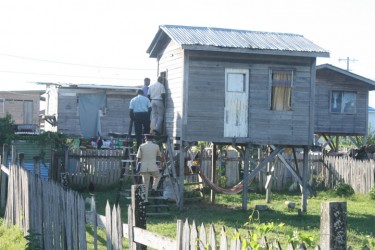 Yesterday, a neighbour recounted that she was awakened from a mid-morning doze by the screams of Parmanand who was being beaten again by her spouse. She said that a young woman called out from the street for the man to stop beating the woman and shortly after the man left the house. Neighbours then went to check on the woman and it was then she was discovered dead, clad only in underwear.
Her daughter said that when she checked her dead mother's body it showed no lacerations but there were evident bruises and that her stomach was severely swollen.
She said that police officers at the scene remembered her mother and lamented that they had charged her lover for her March injuries but she had still taken him back.
Questioned as to what became of the case, the woman's daughter said that she was unsure but she knows that Reeaz was placed on $75,000 bail. She believes that her mother went to court and begged for his release.
Police are currently carrying out investigations while Parmanand's body is at the Lyken Funeral Parlour awaiting an autopsy.
Around the Web